In the competitive world of contracting, trust is the name of the game. That's why crafting a strong value proposition is vital. It helps you differentiate yourself, attract your ideal target customer, and streamline your sales process.
It's the secret ingredient that helps you attract the right clients, build trust in your business, and easily close deals.
To a marketer, a unique value proposition is crystal clear in terms of definition and goal. It might be a new term for a contractor, but definitely one worth exploring.
Let me show you what a value proposition means to a contractor and how it can completely change how you do business (for the better!)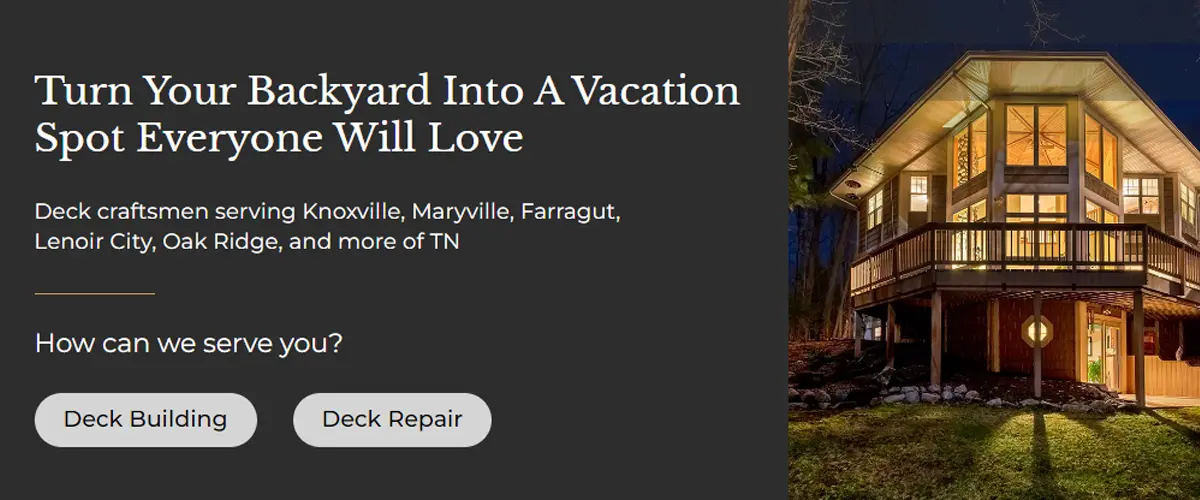 What Is a Value Proposition, Anyway?
Simply put, a good value proposition combines the benefits and value you offer homeowners.
It is that one thing that makes you shine and helps people choose you from the pool of contracting competitors. It's what makes you unique as a contractor.
A great value proposition for a contracting business needs to have 4 key features to be truly efficient:
Start by understanding homeowners' pain points and challenges when seeking contracting services. Is it the overwhelming process of finding a reliable contractor? Is it the fear of subpar workmanship or project delays?
Assess your strengths, expertise, and unique selling points. For example, if you specialize in energy-efficient home renovations, your value proposition could revolve around helping homeowners save money on their energy bills while reducing their carbon footprint. Highlight your certifications, knowledge of sustainable materials, and successful track record in eco-friendly projects.
Clearly communicate the tangible benefits homeowners can expect when choosing your contracting services. Focus on outcomes that improve their lives, such as increased functionality, enhanced aesthetics, improved energy efficiency, or enhanced property value. Paint a picture of the positive changes that your work will bring to their homes.
Showcase your commitment to exceptional customer service, open communication, and responsiveness to homeowner needs. Let them know that you will be there every step of the way, from the initial consultation to project completion.
What Makes Your Business Special?
Take a moment to reflect on what sets you apart. What makes you different from other contractors in your area? It could be your years of experience, specialized expertise, or a particular niche you excel in.
Example: If you have a proven track record in kitchen remodels, that could be your unique selling point. Showcase your portfolio of stunning kitchen transformations, highlighting your attention to detail and craftsmanship.
You need to highlight your competitive advantage.
But it's not just about the tangible aspects of your services. Think about the intangible qualities that make homeowners choose you over your competitors.
Perhaps it's your commitment to exceptional customer service, where you go above and beyond to ensure client satisfaction. Or maybe you can effectively communicate and collaborate with homeowners, making them feel heard and understood throughout the project.
Example: Suppose you're a contractor specializing in eco-friendly home renovations.
By highlighting your unique selling points, you position yourself as the go-to contractor for environmentally conscious homeowners.
Identifying your unique selling points goes hand in hand with understanding your target customers. Consider the pain points and desires of homeowners seeking contracting services.
Are they looking for contractors who prioritize reliability and timeliness? Are they concerned about transparency in pricing and communication?
Tailor your unique selling points to address these specific needs and concerns.
Once you've identified your unique selling points, make them the centerpiece of your marketing efforts.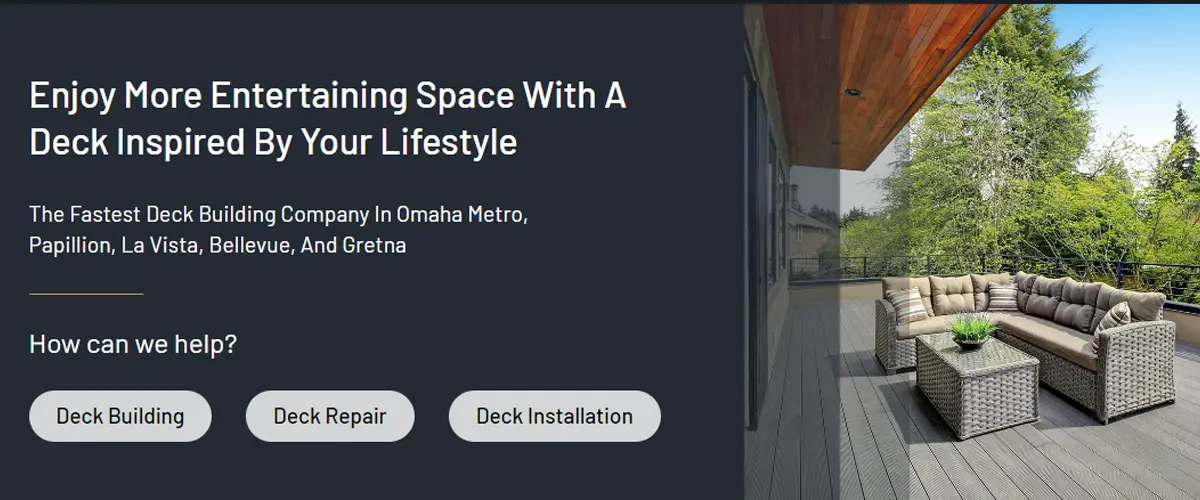 What's In It for the Homeowner?
They teach you this repeatedly in marketing school: the customer always wants to know "What's in it for me?"
Homeowners need to know exactly what they're getting if they choose you as a contractor. Furthermore, you must clarify that you have something for them that other contractors don't. Otherwise, you are just like everyone else in the business.
Homeowners seek tangible results, improvements, and solutions that make their lives easier. As a contractor, it's your job to clearly communicate these benefits.
Start by putting yourself in the shoes of a homeowner seeking your services.
What are their pain points? What challenges do they face?
Example: Let's say you specialize in bathroom renovations. Homeowners might be dealing with outdated fixtures, limited storage space, or inefficient layouts. These pain points become your opportunity to communicate the tangible benefits you offer.
When crafting your messaging, be specific and highlight how your services address these pain points.
Instead of simply saying, "We provide bathroom remodeling," go a step further and communicate the tangible benefits homeowners can expect.
For instance, emphasize how your bathroom renovations will maximize storage space, create a spa-like atmosphere for relaxation, and increase the value of their home.
Example: Let's say you specialize in outdoor living spaces like decks and patios. Homeowners may long for a backyard oasis where they can entertain friends and family or unwind after a long day. When communicating the benefits of your services, go beyond the basics. 
Highlight how your deck or patio designs create functional and inviting spaces for gatherings, provide opportunities for relaxation and enjoyment, and enhance the home's overall aesthetics. 
Paint a picture of homeowners savoring summer evenings on their new deck, hosting barbecues, and creating lasting memories with loved ones.

Here is an example of benefit highlighting we did for one of our amazing customers: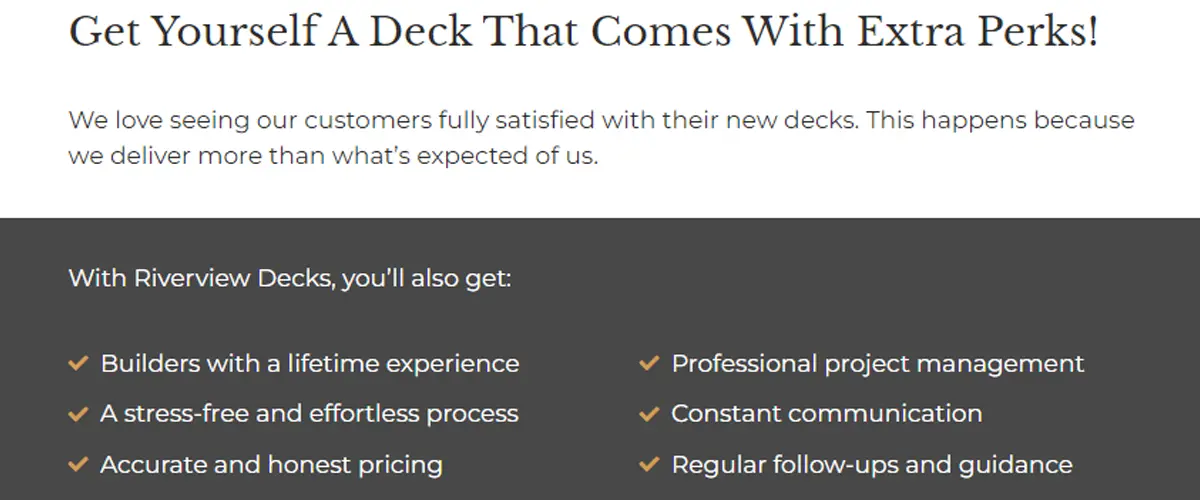 The Power Of Exceptional Customer Service
When running a successful contracting business, exceptional customer service should be at the forefront of your mind. 
It's not just about delivering quality work; it's about going above and beyond to create an outstanding experience for homeowners.
So, what does exceptional customer service look like in the contracting industry?
Clear and timely communication is key. Be responsive, keep clients informed, and address concerns promptly. Update regularly and share necessary information proactively.
Listen to homeowners, understand their needs and preferences. Tailor services to their requirements. Ask questions, offer suggestions, and ensure clear understanding. This creates happy (and returning!) customers.
Pay attention to details for customer satisfaction. Strive for perfection in workmanship. Execute every aspect of the project with precision and care. This includes physical and administrative tasks like accurate documentation and invoices.
Treat homeowners with respect and professionalism. Be punctual, organized, and transparent in communication. Adhere to timelines, budgets, and explain any challenges or delays.
Follow up with homeowners after the project, address concerns, offer warranties, and respond to claims.
Example: Imagine you're a roofing contractor and have just completed a homeowner's roofing project.
As part of your exceptional customer service, you proactively contact the homeowner a few months later to schedule a complimentary inspection and maintenance check-up.
During the inspection, you discover a minor issue that you quickly resolve at no additional cost. The homeowner is thrilled with your attention to detail and commitment to their satisfaction.
As a result, they become a loyal advocate for your business, referring you to friends and family.

Here is an example of how we highlight customer testimonials for our clients: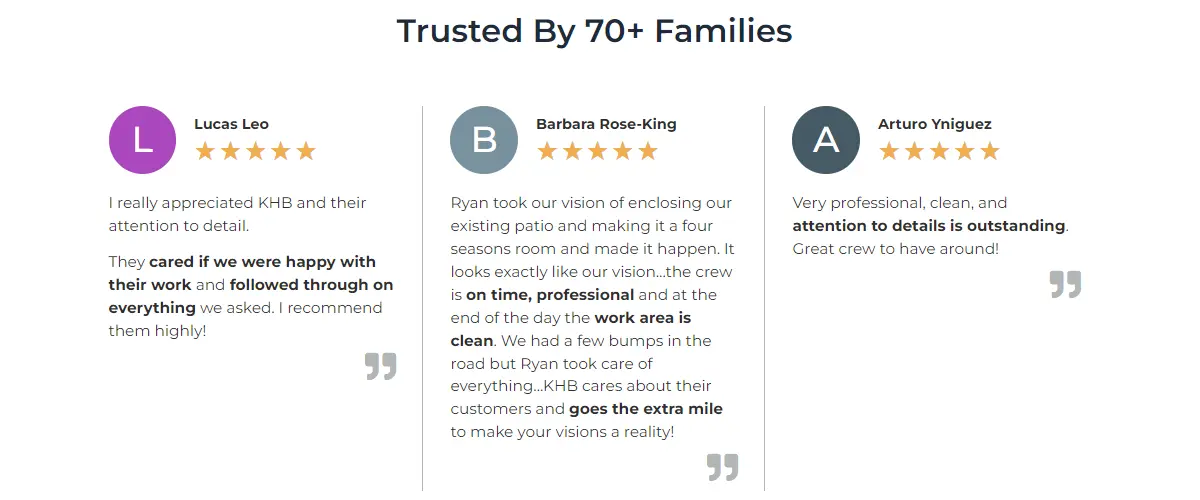 To narrow it down, your contractor value proposition needs to:
Other Burning Questions, Answered
The best values for a construction company can vary depending on the specific company and its goals. Common values for a construction company include quality, integrity, safety, collaboration, professionalism, innovation, and client satisfaction.
A construction company's unique selling point can be its specialized expertise, innovative technology, exceptional customer service, reputation and track record, or competitive pricing.
There are four types of value: functional, monetary, social, and psychological. The importance of each value varies among homeowners. It's crucial to define values from the perspective of the consumer.
Crafting a strong value proposition takes time and effort, but it is an investment that pays off. It helps you attract the right clients, build trust in your business, and streamline your sales process.
Whenever you put your message and your business out there, you need to remember that homeowners want to understand what you have to offer from the get-go.
Being dreamy is nice, but are you clearly stating what you have to give? Don't confuse people with vague value propositions.
Even as you paint the perfect scenario for homeowners, you need to squeeze in your business offer somewhere in the message to make it perfectly visible to a homeowner looking to hire a contractor. What is it that you have to offer, as a contractor?
We've built websites and handled marketing for contractors all across the US. Our owner, Eddie, is ready to show you how your business can reach its full potential while you won't have to worry about marketing at all. Click the button below to book a consultation and live your best contracting life!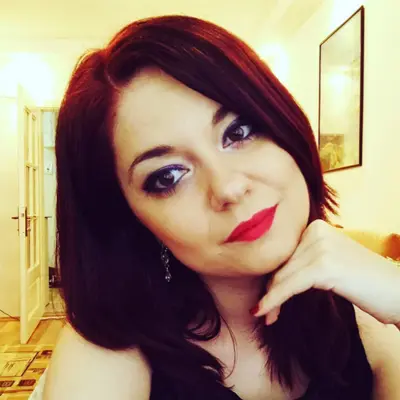 Because of her marketing degree and her 14+ years of experience as a writer, Theo loves understanding marketing psychology and turning it into words people actually want to read.
When she's not crafting compelling copy, you can find her strategizing over online & board games, watching a good thriller, or getting creative with scrapbooking.