How to get reviews as a contractor the right way
Reviews are like money.
Everybody wants it but few know how to get it. Or they do it the hard way.
Joshua Campbell from Rescue Air attributes the growth of his company from $3M/year to $12M/year in 5 years mostly due to building over 2000 reviews for his business. He found a direct correlation in growth and profits linked to the influx of reviews he was getting. Another great "side-effect" was that his costs to acquire a lead have also decreased considerably.
In this guide, I'm going to show you how to get 5-star reviews in your contracting business so you can make more money.
Not only will I show you how to get Google reviews, but I will also present an evergreen strategy & tactics that work on the platform of your choice.
Let's begin.
Reviews, the missing piece
There's one crucial piece to getting raving reviews.
And because you know about systems thinking, you are aware that the crucial piece is actually more pieces.
And that piece is "the customer's journey".
Although it would be so painless to just do a quick & dirty tactic to get reviews, in the end, the purpose of reviews is not really to have a review. It's to create a happy customer.
Still with me?
Getting a customer review begins before the job. It starts by building trust in your contracting business. By building trust with your client.
9 Steps to creating loyal customers
Let's take a quick look at the 9 steps that you go through with the customer on a job. And how you can influence the final outcome.
Step 1. Before the client calls
Before you actually take on a job, your client needs a way to find you.
The way that happens online is either from a Google search or by discovering you on social media. The best way though is for someone to find you based on the recommendation of a previous customer. We'll get back to that in a bit. *OPEN LOOP*
The gateways to building trust and getting your future customers to know you, your team, and your services are from either your website (a landing page) or your social media profile (or page if you're running ads).
You can jump directly to the section about building trust in your online business to read more about it.
Step 2. After the client reached out
At this phase, the customer has taken an action. They either submitted a quote request on your website or they called.
Congrats! To get people to commit and take action is an important step in the process.
At the same time, they probably sent quote requests and got in touch with other service providers as well.
This is your opportunity to stand out.
First of all, make sure you're the first person to call them back from all the contractors that they reached out to.
Introduce yourself and state why you're calling. Let them do the talking.
Listen carefully to what they're saying. Don't try at this stage to jump to conclusions over the phone.
Ask more questions so you get a clear picture of the problem. A customer that feels that he's heard will trust you more.
Schedule an in-person estimate at a time that you can actually honor.
Set the right expectations for the estimate. They should know who's coming to their home and how long it should take.
Step 3. Estimating the job
Now it's time to show up.
Make sure that you prepare:
You'd think it's silly, but as we went through hundreds of reviews it was shocking to read some of them. For example, some roofers that come to inspect the roof don't even have a ladder with them. Who do you think the customer is going to choose?
The person that actually checks out the problem or one that gives it a quick glance?
At the estimate phase, you should dive deep into the problem. Ask more clarifying questions if anything is unclear. Make sure you take notes as you go along.
Ask for permission to take photos if needed. Take as many as you need as these will come in-handy at the proposal stage.
Not only will you have a clear picture of the job, but the owner will also notice how thorough you are.
You should also answer any questions the customer might have. You can advise them on materials and tell them about the pros and cons.
Part ways by acknowledging the fact that it was a pleasure to meet them. Finish by letting them know when they should expect your proposal.
Step 4. Sending in a Proposal
In the evening you should prepare the proposal and send it to the customer.
Take your time to put it together in a way that the client can see for himself the value of your work. If there are any specifics make sure you include a picture you took from the job-site. That way you can emphasize where the issue is and how your solution addresses that problem.
Try not to increase your profit margins on materials too much. Customers are smart enough nowadays to Google the basic costs. You may come across greedy if you add on too much. The added cost should at least cover your costs with transport and labor + taxes.
To get to healthy profit margins, you should put the correct price on the value of your service. You should always shoot for at least a 50% profit margin on a job.
This will enable you to invest that money back in your business so you can thrive.
Once on the job, your review-building process doesn't stop.
Let the customer know when you're coming in and when you start. Mention the amount of noise you'll be making in the case they have a baby or small child.
You should be careful with the customers' concerns throughout the buildout. Educate them if needed on materials or processes if they're curious. Don't get into arguments with them on what is wrong or right. Especially things that are outside of the job, like politics or religion.
Your team is an extension of you, so they should be professional about their job.
Make sure they don't bad-mouth you, the customer, or the materials/products they're using at any point. This will destroy all the trust you've built in an instant.
Try to have a small 1-3% budget included in the pricing of the job for unexpected tasks the customer might have. That way you won't get frustrated about derailing from the project. The customer will be happy that you went out of your way to help them out.
Or you could do it because you genuinely care.
Step 6. Handing over the job
Before handing over the job, make sure to clean up the job site. I've seen this trend in a lot of negative reviews. Even though the job went well, the homeowner complains that the company didn't clean up the mess. Don't be one of those guys.
After everything is clean and tidy, take the customer on an inspection of the job you and your team did. Take note of any issues and fix them on the spot if possible.
This should offset any issues your customer might discover at a later date. It will also ensure that the job was well done.
Feel free to let them know where the job was challenging and how your team knocked it out of the park.
Take your time to compliment on how well the job went and how it was a pleasure to work for them.
And now it's finally time…
Step 7. Getting that stellar review
Asking for reviews is not wrong if you do it the right way.
According to BrightLocal, 72% of people that were asked to write a review, went on to do so.
If you're thinking about it… please note that incentivizing customers to leave a review is wrong and frowned upon by most platforms.
In recent research done by pulseM, they discovered that the best time for a customer to leave a review is as fast as possible.
After 1 day, a customer is 3 times less likely to leave a review, while after 2 days they're 5 times less likely to leave one.
So it's crucial you do this step right after finishing positively the walk-through of the job.
At the peak of your customer's happiness with your service, you should start by genuinely thanking them for the opportunity to work on their project.
And then create a pre-frame for a review as well as uncover any hidden objections, issues.
Mrs. Webb,
Thank you for the opportunity of working on your project.
I think it came out great. As you probably know, I strive to offer 5-star service. Is there anything that we've done that has fallen short of that promise?
Now shut up and listen. If there's an issue fix it ASAP. If they are thrilled, continue.
That means a lot to me and my team. Thank you.
Would you mind sharing your experience in a review on Google? It will take 3 minutes and will help other great customers like yourself find the right company for their project.
At this point they should say "Yes, of course!"
I am humbled. Thank you.
I'm going to send you a text message with a link that will let you review our service directly on Google. 
Is that OK with you?
I really appreciate it. It means the world to me. I'm looking forward to your review.
Now you are free to leave. As soon as you leave the premises and you're in your car, make sure you text them that link. The text should read:
Thank you again for the opportunity to work on your project. Here is the review link I mentioned earlier https://bit.ly/review-companyname. Thank you, Joe
Now you might think… "Phew! My job is done."
No, it isn't. Now is your opportunity to overdeliver.
According to a survey by ReviewTrackers, 53.3% of customers expect businesses to respond to their online review within 7 days.
So please, take the time and respond to their review. Thank them again for the opportunity. Highlight why you were a good choice. Acknowledge your team if they mention them. Remember, your reply is not only about the customer you served, it's about all future prospects that will go through the reviews.
Last but not least, you could send them a thank you card. Perhaps with a 10% discount code for their next job or their friends' job.
Step 8. Following up with your customer
In a month since the job, you should follow up with your customer.
Add the date in your calendar, add it in your CRM – wherever you add it, make sure your follow-up game is strong.
This creates a long-lasting bond and will keep you fresh in their minds.
On the call say who you are and that you're just checking in about the job. Thank them again for the review – psychologically reminding them of their small commitment.
And before hanging up…
Step 9. Asking for a referral
Oh, and if you know anyone that could use our service, feel free to guide them to us.
It would mean the world to me.
And that's it.
You've done all you could to ensure that the customer is satisfied. And at the same time, you made sure that they were empowered to spread the word about you and your business.
Win-win!
Now let's move onto increasing your chances for a positive review.
3 Key factors that influence the outcome of a positive review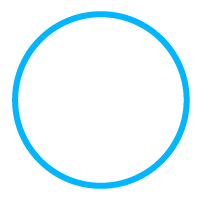 "Time is of the essence" is an understatement.
From the time it takes you to answer a quote request to the time it takes you to ask for a review, time is your best friend.
Showing up on time, doing things at the time you said you were going to do them at. Honoring your time estimate for the job.
Money loves speed.
So why keep it waiting?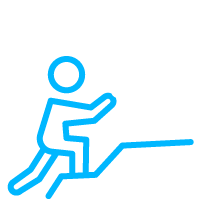 Your business can thrive only so far as your leadership allows it to.
There's this great quote that encompasses life's philosophy on doing things.
"How you do anything is how you do everything."
Life is a reflection of ourselves. It's a mirror. And the business is a reflection of you in it.
If you're truthful and open with your team, it's likely that they'll reciprocate this value.
If you have a habit of running late, this will negatively impact all interactions you have in your business.
As a leader, you do the right things for both yourself and others. Not only do you build and inspire a vision, but you also set the direction and map out where you need to go to "win". As a team and as an individual. Being a leader is both exciting & inspiring.
And as a mentor once told me: "Do the right things even if you feel like it, or not."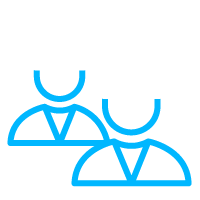 Your team has a direct implication in you getting a raving review for your contracting business.
Besides the fact that you can inspire them through your leadership, if you can, incentivize them based on the work they did. Offer them a little bonus. If someone praised them in a review, bring it to their attention and congratulate them.
Read them some of the reviews out loud at your meetings. By sharing your and your companies wins with them, not only will you inspire them but you'll also motivate them.
When people believe they're part of something bigger and they're making an impact, they show up at their highest self.
It solves one of man's biggest needs, and that is the need for recognition. The need to feel useful. To have a purpose.
Keeping your team motivated to do great work will make the whole system win and will always result in happy customers.
Dealing with negative reviews
Well, now you've done it!
You didn't follow the process above and you got a negative review. Or perhaps the prospect had a bad day and made a call when you were having a bad day and now there's a disgruntled prospect that's out to get you.
Fear not, all is not lost. Even more, it's an opportunity to grow. Use bad reviews as a learning experience. Use them as another opportunity to build trust with future customers.
And not only can you build trust with future customers but according to the service recovery paradox study by McCollough and Bharadwaj, you can nurture an even greater loyalty from the person that left the bad review in the first place.
And the change ripples forward. When prospects see a negative review they're looking to see how that business handles criticism. By interacting with the negative reviews it shows you're proactive and solving problems.
This builds your company's trust. And that's exactly the secret.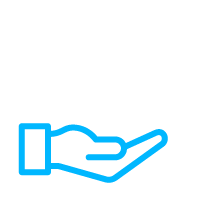 Treat each negative review as an opportunity for positive change!
80% of the time there's something valid about that review.
So here are the steps you need to take:

1. Call them ASAP. Make it your mission to truly listen to what they have to say. If you care about having 5-star service, make sure you call until they pick up. So you can make it right.
If you followed the steps presented in the article they should have shared any negatives in person. So you need to see the underlying hidden reason why they would feel the need to leave a bad review.
2. Use your emotional intelligence. Don't be reactive or defensive. And never take it personally or get personal. Practice active listening and really try to put yourself in your customers' shoes. It will mean the world to them.
3. Start the conversation by thanking them. Be appreciative of the fact that they took the time to leave a review.
4. Empathise. Put yourself in their shoes. Try to understand what the customer is going through. Maybe they're just having a bad day and need someone to hear them out.
5. Ask a lot of questions. Until you get the complete picture you won't be able to extract the value out of the conversation. Maybe it's just a misunderstanding. Never outline they are wrong. Even if you're right, you'll win the fight but never the customers' heart.
6. Apologize. Acknowledge that it's a learning opportunity for you and your team and you'll fix the issue.
7. Fix the issue. Whatever it was, make sure you resolve it ASAP. Make it a priority to make it right by them.
8. Respond to the online review. After you fixed the issue, let a few days pass. If they don't change the rating, go on in and reply to the bad review by thanking them for their feedback and list the measures you took to resolve the problem.
9. Implement fixes in your business. After the issue is resolved, take the needed feedback from the interaction. Focus on fixing your process so that it doesn't happen again.
That's how you implement feedback loops in your business and grow.
The purpose of this guide is to give you an understanding of how getting reviews for your contracting business works as a whole.
Something that works for all platforms.
Because 86.86% of searches happen on Google, I recommend focusing your efforts on getting Google reviews.
For that, you need a Google My Business account that you can set up here.
Then you can follow Google's technical guides on how to read reviews, respond to reviews, verifying your business, and more. You can find those guides here.
Action is what separates the winners from the rest.
You've got nothing to lose to put this process into practice for your next job. I'd love to hear your feedback on how it went. Perhaps even how you improved on the process too.
I'm always open to learning and sharing information.
Also, share it with your circle of contracting friends. Starting meaningful conversations and leveling up your businesses helps the system as a whole.
I am also grateful for your generosity and your quick action.
Win on!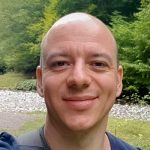 Article by Eduard Boka published on December 2020
I'm passionate about business strategy & development. My drug of choice is marketing infused with human psychology & behavior.
My biggest skill is transforming my expertise into an applicable form for contractors.
Help you win big, fast, and long-term.