In the highly competitive contracting industry, a well-designed contractor logo plays a crucial role in establishing a strong and memorable brand. 
In this blog post, we want to equip contractors like you with the knowledge and inspiration you need to create a contractor logo that effectively represents you and resonates with your potential customers and target audience – without looking like all the other contractor logos out there.
We'll walk you through the key considerations and steps involved in creating a t contractor logo and give you some pointers on how to really make your brand shine – hint: it's not just about the logo!
We'll talk about:
The Problem With Creativity In Contractor Logo Design
One common challenge with creativity is that our brilliant ideas often sound amazing in our heads but don't always translate well into reality. We come across many contractors with intricate logo concepts, but unfortunately, they often don't work out as intended.
Complex designs can be overwhelming because contractors often try to accurately represent every element of their unique approach with intricate icons or detailed illustrations.
In the contracting world, it's crucial to prioritize simplicity and clarity in your contractor logo. You want your logo to convey your message clearly and effectively without confusing or overwhelming your audience.

While there is room for creativity, it must be employed in a way that maintains clarity.
Generalistic logos may do the job of explaining what you do, but they won't help your business stand out.
How To Craft a Good-Looking Contractor Logo - 5 Basic Rules
Notice the underline: "good-looking". The steps below are basic logo design rules that you can get anywhere on the web for free.
We want to quickly go through these general principles so that we can dive into the more crucial aspects that truly matter when it comes to contractor branding: emotions, values, and brand ambassadorship.
Rule #1. Keep it Simple and Uncluttered
Some of the most effective contractor logos we've created are so simple they practically jump off the page.
Why is simplicity so important? Well, think about it from a homeowner's perspective. When they come across your logo, whether it's on your website, business card, or a sign on the side of your work vehicle, they only have a few seconds to form an impression.
A cluttered or overly complex logo can confuse or overwhelm them, making it harder for your message to resonate.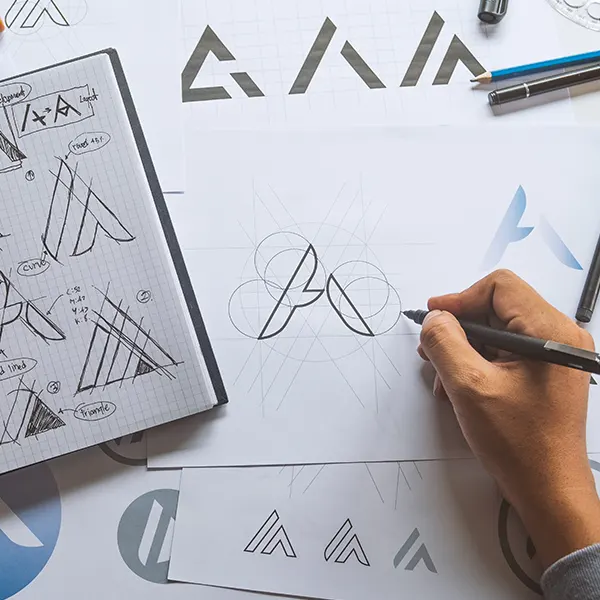 Rule #2. Make It Easy to Read and Understand
This goes hand-in-hand with the first rule. To make your logo easy to read, start by choosing clear and legible fonts. 
Select a typeface or font that strikes a balance between professionalism and style, making sure that the letters are distinguishable and readable from a distance. Avoid overly decorative or script fonts that may hinder readability.
Rule #3. Vector And Scalability
Unlike other businesses where logos primarily appear on websites and business cards, the contracting industry often requires logos to be scaled up to astonishing sizes for various applications.
From building banners and yard signs to truck and trailer wraps, billboards, and more, your contractor logo must maintain its visual impact and legibility across different dimensions.
To ensure your logo is scalable, it's essential to design it in a vector format. 
Rule #4. Ensure Versatility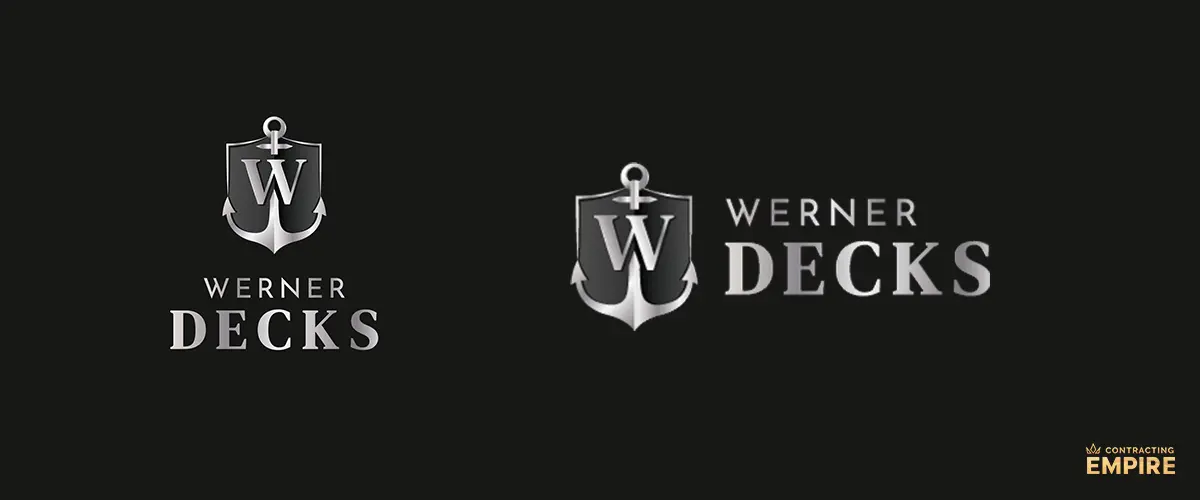 A logo should be adaptable to different platforms, shapes, and backgrounds while maintaining its visual appeal and legibility.
While rectangular shapes are commonly used for logos, think about how your logo will appear in square or circular formats as well. This flexibility allows you to use it effectively across different mediums, such as social media profile pictures, covers, website menus, website footers, etc.
The logo should also be designed to work well on different backgrounds, including both light and dark options.
You want a logo that remains relevant and effective for years to come without feeling outdated or out of touch. The key to achieving timelessness is to avoid design elements that are too trendy or closely associated with a specific era.
While it might be tempting to incorporate the latest design trends into your contractor logo, they can quickly become dated and lose their effectiveness. Instead, focus on creating an enduring logo that can withstand homeowners' evolving tastes and preferences.
How To Craft A Remarkable Contractor Logo And Brand - Some Less Popular Rules
Now that we got the generalities out of the way, let's talk about what really matters when designing a contractor logo. While these aspects apply to logo design in general, some of them are even more important when we're talking about contractors.
1. Define Values, Mission, And Unique Selling Points
Start by identifying the core values, mission, and unique selling points of your brand.
These aspects will form the solid foundation for your logo design. It's not enough to simply think about them; we encourage you to grab a piece of paper and jot down everything you want your contractor branding to represent.
Clearly communicate how your services solve the problems and fulfill the needs of potential customers, whether you're a general contractor, a home renovation company, or offer a more specific service like carpentry, deck building, or concrete work.
The act of writing them down will help you internalize them more quickly.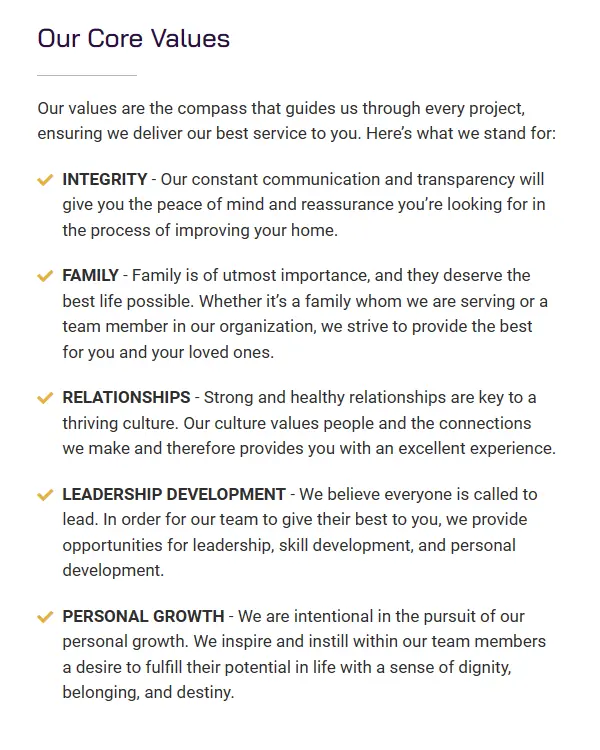 2. Define Your Brand Personality
Consider the personality traits you want your contracting brand to embody. Are you professional and corporate, friendly and approachable, or innovative and cutting-edge? Define the tone and style you will use to communicate with your audience.
3. Gather Ideas From Competitors and Industry Trends
When brainstorming ideas for your contractor logo, it's important to look at what your competitors are doing and the current trends in your industry. However, it's crucial to be mindful of not simply copying what everyone else is doing.
Let's say you're a general contractor or in the remodeling business, and you notice that many remodeling logos feature a house or construction-related images. While this can be a good approach, it also presents an opportunity for you to stand out from the crowd. Instead of following the same path, consider exploring alternative concepts that reflect your unique perspective and help you differentiate your brand from your competitors.
Similarly, if you're a plumber, you might notice that many plumbing logos incorporate symbols like a leaking pipe or a person holding a wrench. While these symbols convey your work's nature, it doesn't mean you have to follow the same old clichés. Embrace the chance to be distinctive and create a logo that breaks away from the usual expectations.
In the examples provided, we have two sets of plumbing logos. The logos on the left are more typical and straightforward, incorporating common plumbing symbols. However, the logo on the right takes a different approach. It features a crown instead, which adds a distinctive and memorable elementThe crown is also a splash, which helps keep the significance and connection with the plumbing industry, but in a more subtle way.
4. Create Your Brand Emotion Map
Creating a strong brand identity goes beyond simply designing a logo. It's about evoking the right emotions and embodying your company's core values. Let's break them down into three essential elements: emotions, colors, and values.
What feelings do you want homeowners to experience when they see your logo and interact with your brand? Do you want them to feel a sense of security, elegance, or dependability? These emotions can be conveyed individually or combined. Your brand visuals, including your logo, should effectively represent these emotions. Pay close attention to the choice of fonts as well, as they can greatly influence the desired emotional impact.
In addition to designing a logo that effectively represents the desired emotions, ensure that your actions and customer interactions align with those emotions.
Imagine a beautifully crafted and elegant front door as your logo, evoking a sense of sophistication and style. But if the door leads to a poorly organized and messy office, it creates a dissonance between the visual representation and the actual experience. A holistic approach means aligning every aspect of your business, from the logo to customer service, to consistently deliver the intended emotions.
While color psychology plays a role in branding, it's not the sole factor determining your logo's effectiveness.
The main purpose of a logo and accompanying brand elements is to capture attention. This can be achieved through various means, including the use of highly visible colors like orange, neon green, or yellow. However, standing out doesn't necessarily require bold and vibrant colors.
You can also make a distinct impression with an all-black appearance or by incorporating colors in other aspects of your contractor brand, such as your truck or accent colors on your website and social media.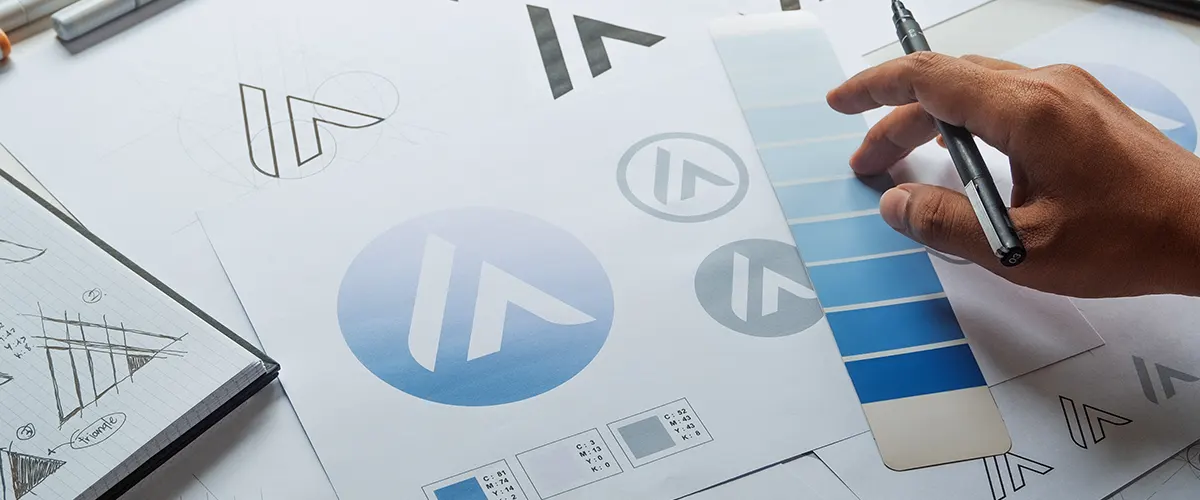 At Contracting Empire, we're big on showcasing the values that drive your business. People don't just want to do business with a company; they want to connect with people who embody values that they appreciate or relate to.
Your contractor logo should reflect your company's values and help you craft your brand's personality. Consider using symbols, icons, or imagery that align with what you stand for. For instance, if quality is a core value for you, incorporate elements that signify precision or craftsmanship.
This takes us to…
5. Being Your Own Brand Ambassador - What Does That Mean?
Your brand extends beyond your logo. It's about how you answer calls, interact with clients, fulfill commitments, take ownership of mistakes, and consistently demonstrate your values. That's what being a brand ambassador means.
Here are some ways you can fulfill this role:
Demonstrate your skills and knowledge in your field through your work. Provide high-quality services, complete projects efficiently, and deliver exceptional results. By consistently delivering on your promises, you establish yourself as a trusted expert in your industry.
Be the face of your brand
Actively engage with your clients and potential customers. Attend networking events, industry conferences, and trade shows where you can showcase your work and interact with others in the industry.
Building relationships and establishing a personal connection with people can go a long way in promoting your brand.
We've already touched on this, but you should always aim to consistently align your actions with the values and principles that define your contracting brand.
Whether it's a commitment to exceptional customer service, a focus on sustainable practices, or a dedication to craftsmanship, let these values guide your decisions and interactions with clients.
Contractor Logo Case Studies
Before jumping on a random search online for logo designers or contractor logo design and not knowing what to choose because nothing seems like a good fit, let us offer you a few examples.
The logos below are all developed and created by Contracting Empire, and you'll notice that most of them are not literal. Instead, they showcase a symbol or an element that embodies a brand trait that contractors want to be associated with.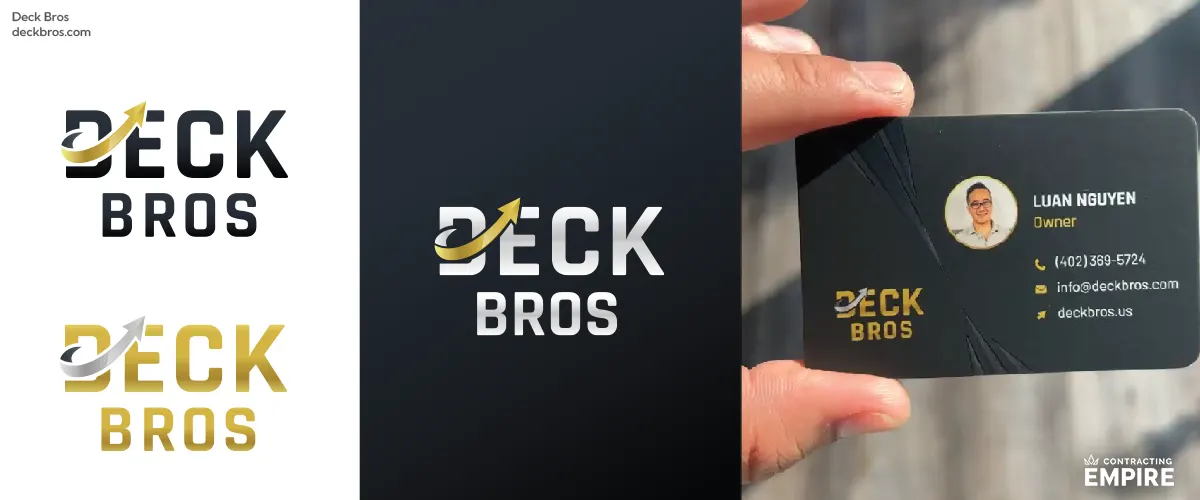 A simple but effective logo featuring a clear font, an arrow, and an elegant gradient. The arrow symbolizes forward motion, speed, efficiency, all of them embodied by owner Luan and his team at Deck Bros, who can give homeowners across Omaha a new deck in as little as 2 days!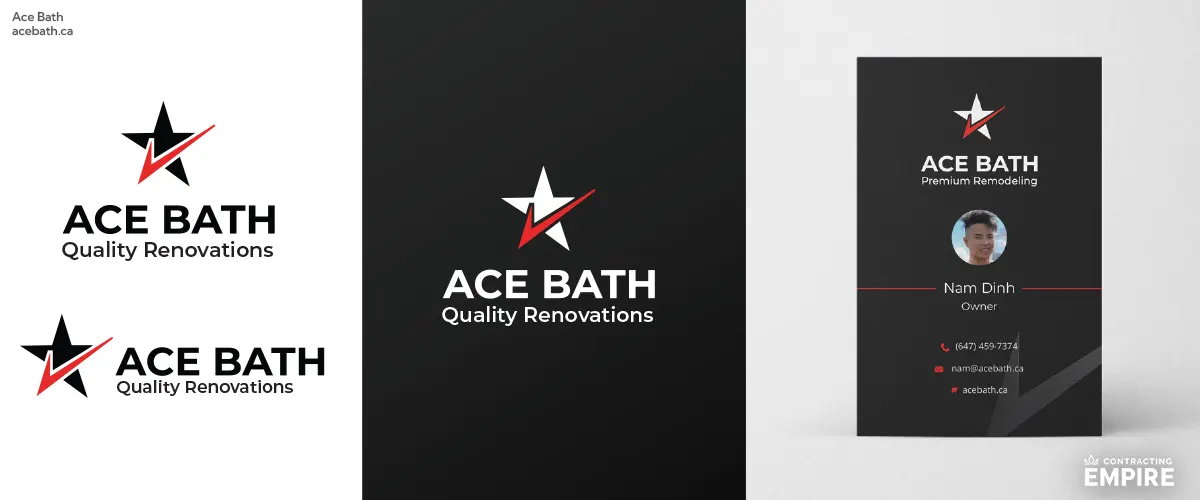 This client's niche is remodeling, but we didn't go with a literal representation of a house. Instead, we chose a star that represents the 5-star service owner Nam aims to deliver to his clients. The checkmark is another small detail that emphasizes the fact that quality is a given, not an option when working with Ace Bath.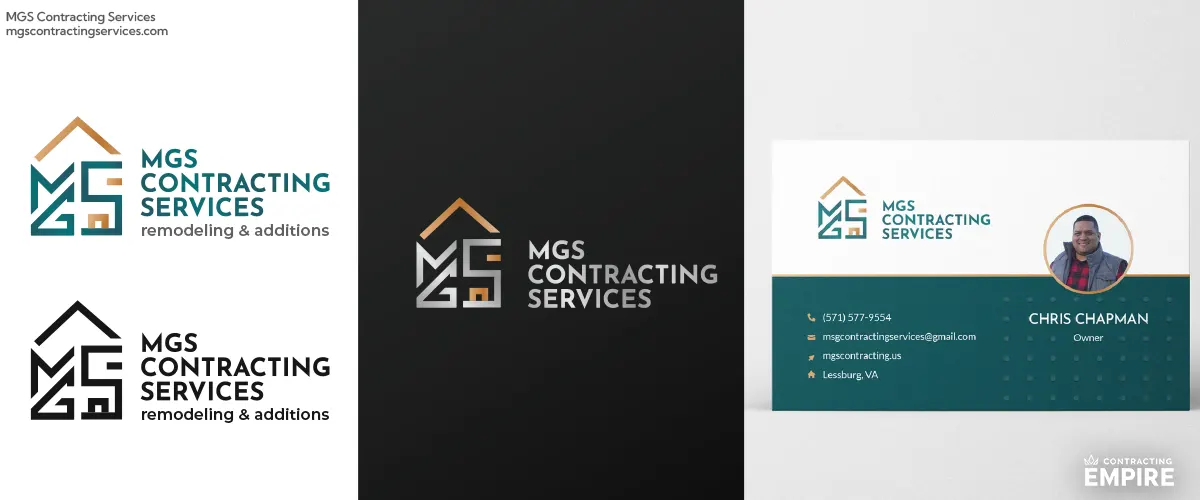 Some company names like MGS Contracting Services are more challenging to work with, because they're longer, so it's important that your designer understands effective placement and sizing. Here, we can see a monogram logo with the three company letters, MGS, arranged in a creative house shape.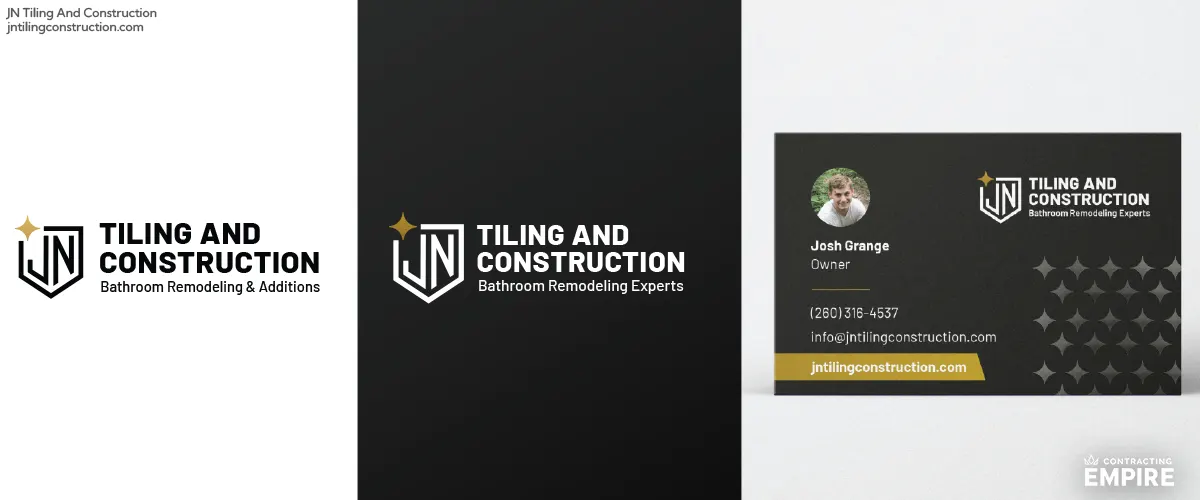 With JN Tiling and Construction, owner Josh is on a mission of delivering impeccable tile installations and well-designed bathrooms. Their logo incorporates a monogram within a shield-shaped tile, creating an elegant and captivating design. The logo's subtle golden star represents the pristine work they aim to provide. This example shows how even a simple sparkle can convey a sense of uniqueness. to your logo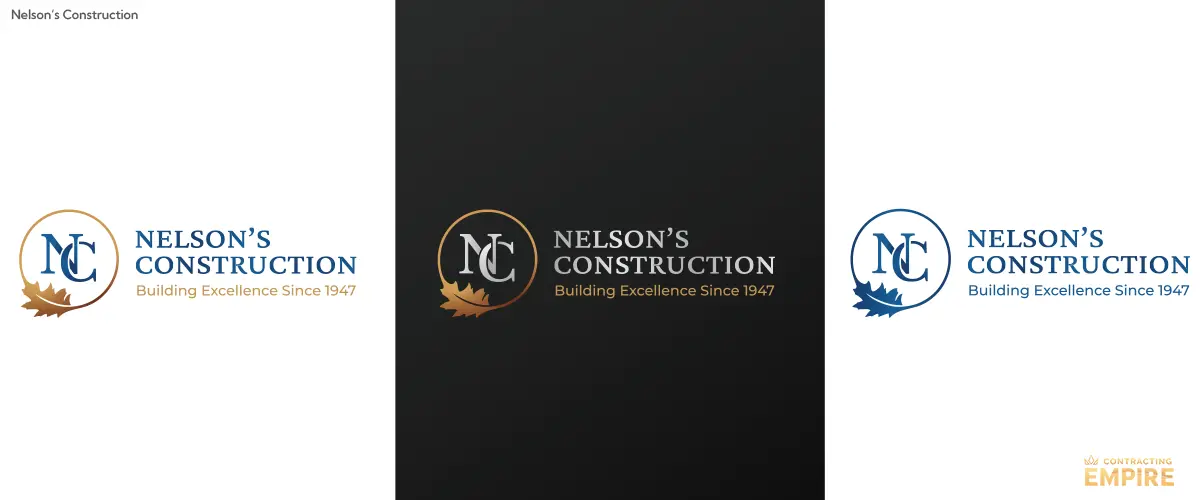 Who says contracting logos can't be elegant? The tagline of Nelson's Construction is "building excellence since 1947", and that's exactly what we tried to showcase with the fonts, colors, and elements of this logo. The font is a serif font, the leaf and golden gradient give off that sense of elegance and prestige, and the NC monogram can also be used as a standalone element.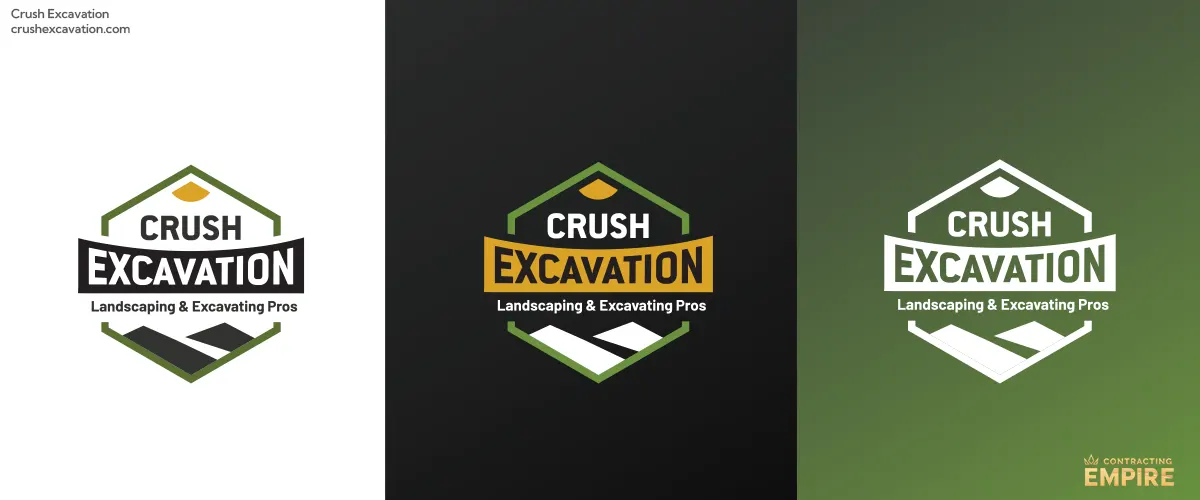 Drawing inspiration from the vibrant yellow color of the excavator machines used by Charles in his excavating and landscaping projects at Crush Excavation, we designed a logo that captures the essence of his company's work. Because he doesn't just excavate, but is also an expert landscaper, we wanted to incorporate some landscape elements: the sun and the hills. Everything is tied together by a hexagon/shield shape, which gives the logo strength and influence. 
What's Next? Hiring a Professional Contractor Logo Designer vs. DIY Approach
Since you've heard us talk a lot about simplicity, you may be tempted to download a vector program and try designing your logo yourself. And that's not a bad approach at all. If you have a clear idea of what you want and you're not afraid to learn a professional design software, give it a try!
If, on the other hand, all you know is that you want a great logo but don't know where to start, get in touch with us. At Contracting Empire, all contractor brand projects start with a discovery call. 
What's a Brand Discovery Call
We'll spend some quality time together talking about your company, your values, and what makes you you. We also take the time to study your demographics and psychographics in order to create a logo that resonates with your audience.

Help In Choosing Your Company Name
Sometimes, we also help contractors choose their company name. While it may seem very straightforward, choosing your contracting company name is very important, too, especially since we're entering the realm of local SEO. But that's for another post.
Next, an actual designer with years of experience and thousands of logos under her belt will take your ideas and translate them into 2 or 3 logo concepts that embody all your requirements. You'll be able to work with her on refining your chosen idea until you can truly say, "This is me!".
Once your logo design is finalized, we'll provide you with a complete package that includes your logo in various color combinations, formats, and applications.
We also like to go the extra mile and include some additional goodies too. You can expect bonus items like t-shirt designs, business card designs, and more. We want to ensure that you have everything you need to showcase your brand in a variety of ways.
As you've seen, a logo design is less about the logo itself and more about what it represents. So it's important to first think about significance and symbols and then find a way to translate that into visuals.
Whether you're ready to take on the design challenge yourself or would like our expertise and personalized approach, we're here to assist you in creating an exceptional contractor logo that truly stands out. Just reach out to us, and let's begin crafting a logo that reflects the essence of your contracting business!


You may also be interested in: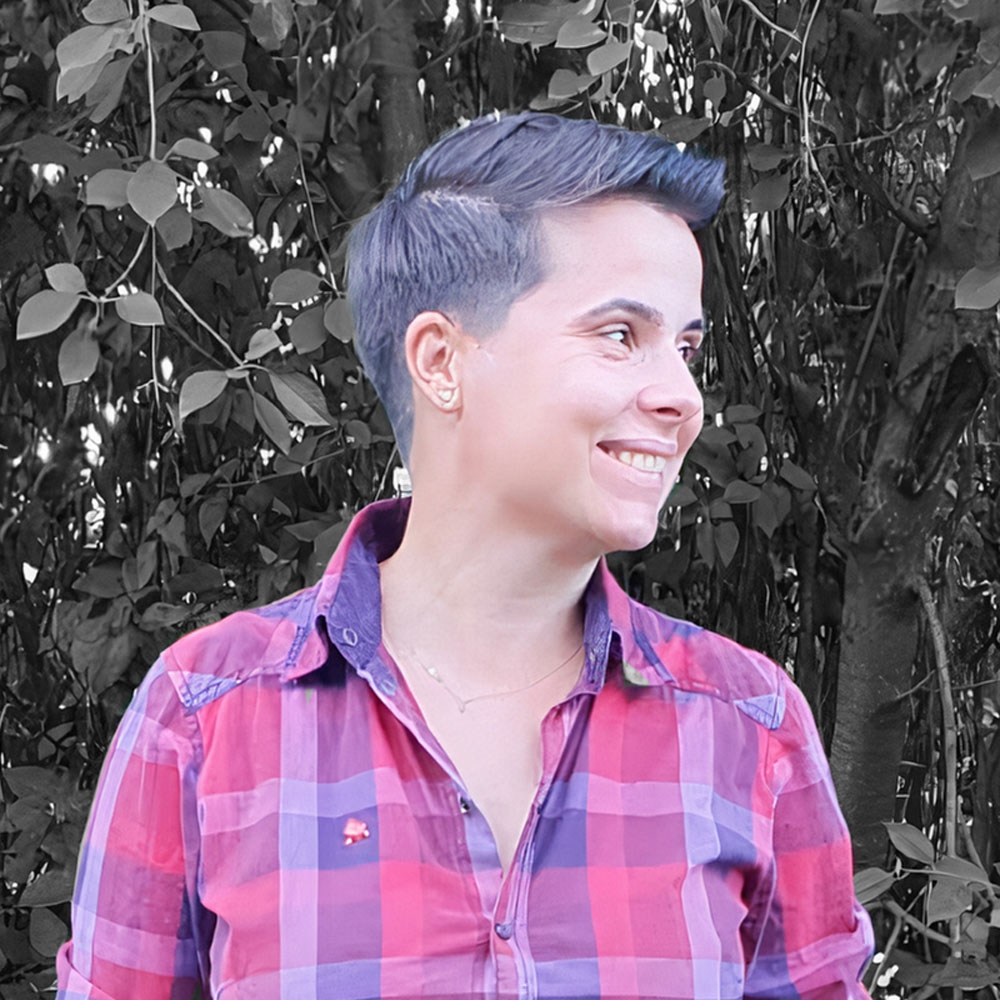 Claudia is a branding wizard passionate about turning contractors' visions into remarkable and captivating brands.With a degree in Arts & Design and over 11 years of experience, Claudia has designed thousands of logos, each one unique and tailored to its client.
When she's not designing or reading, you can find her in the barn, spending time with her horses and donkeys.