Get Your Contracting Business In Front Of More Prospects
Turn your Google Business Profile into the ultimate weapon to get more leads online.
Scroll to see how to take full advantage of the Internet's power.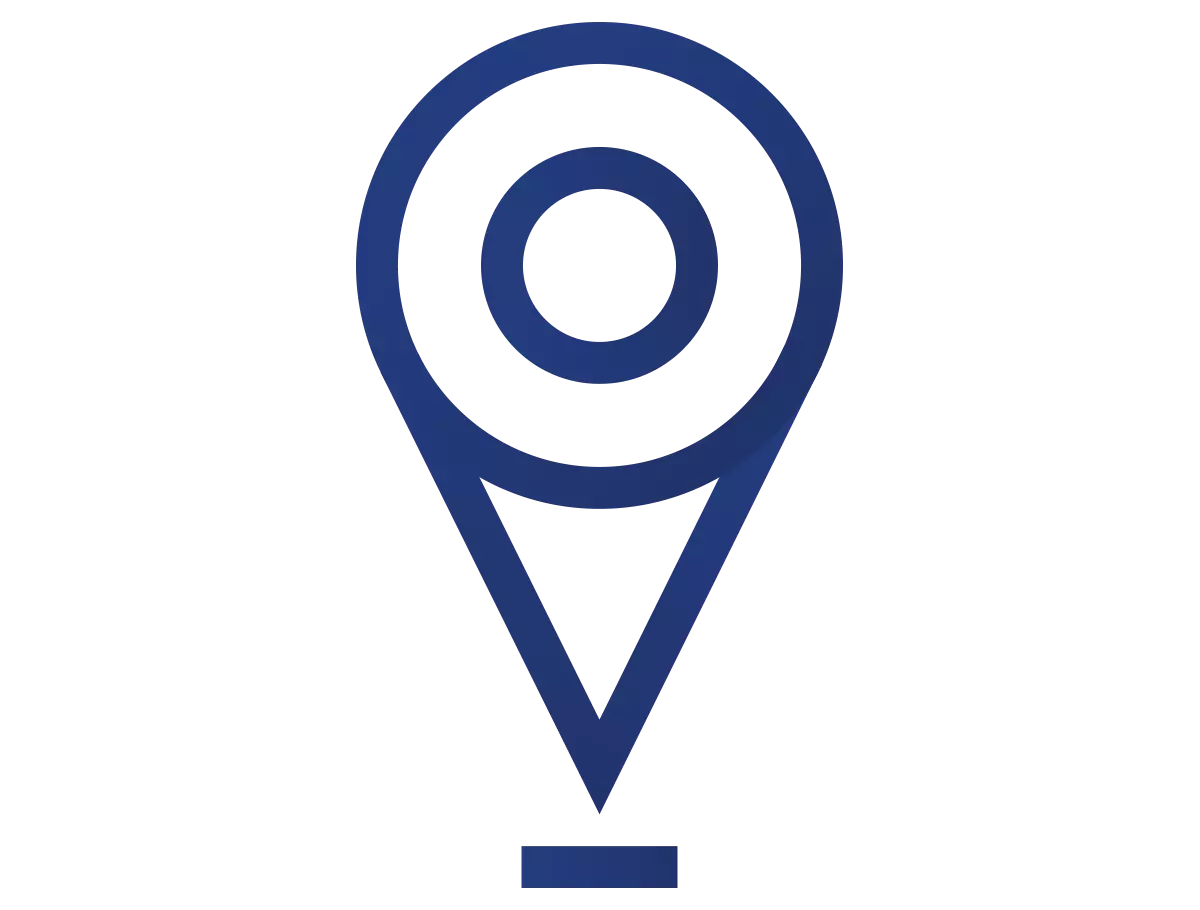 Today, 97% of internet users learn about local companies online, making this the perfect opportunity to appear in front of more potential customers!
In a nutshell, Google Business Profile (GBP) optimization is about making your business show up higher on Google. You can do that by constantly updating your Business Profile to appeal more and more to your prospects.
However, contractors without an optimized GBP are missing out on a free way to advertise their business.
92%
of searchers will pick businesses on the first page of local search results.
78%
of location-based mobile searches will result in a purchase.
72%
of local searchers will check businesses within five miles of their current location.
7x clicks
Complete and optimized Google Business Profiles get 7x more clicks than those unfinished.
The How Of Google Business Profile
Think of Google as your pickiest customer but also the most valuable one. It has its own way of seeing things, and the more you give it what it wants, the more you'll benefit from it.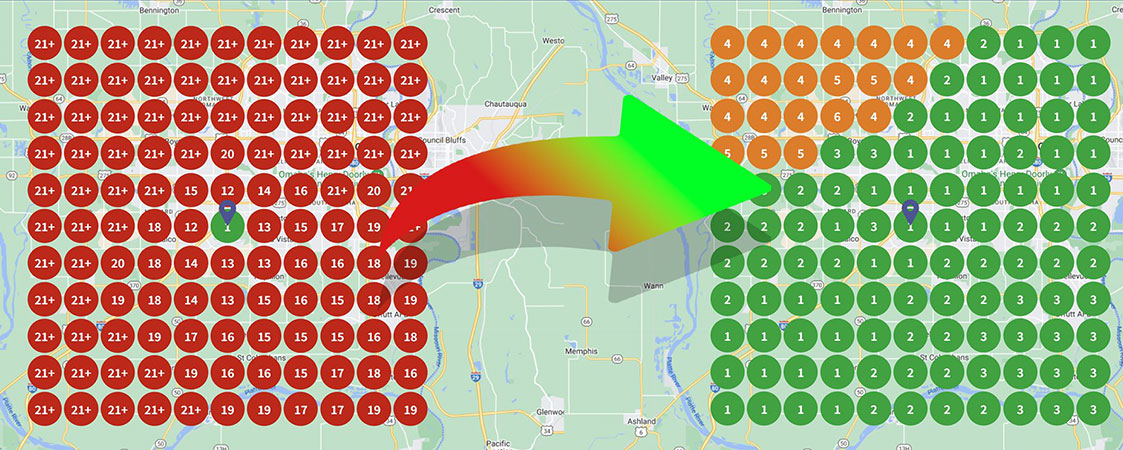 The image above conveys how a business ranks in a specific area before and after optimizing its GBP.
Each dot represents a smaller area, and the color (and number) in it represents the position in which the business ranks. Red is bad, orange is decent, but we're interested in green. Green is for businesses that rank in the Google 3-Pack, the top three Google results.
You need to be in the top three so your potential customers can see you first.

And for that, you need to give Google what it wants.
But that's not all.
Your GBP, reviews, on-page SEO, links, citations, behavior, personalization, and social signals are all factors that impact your ranking on Google. Tackling all these factors make your Business Profile complete, and Google LOVES complete and optimized Business Profiles – and so do your customers!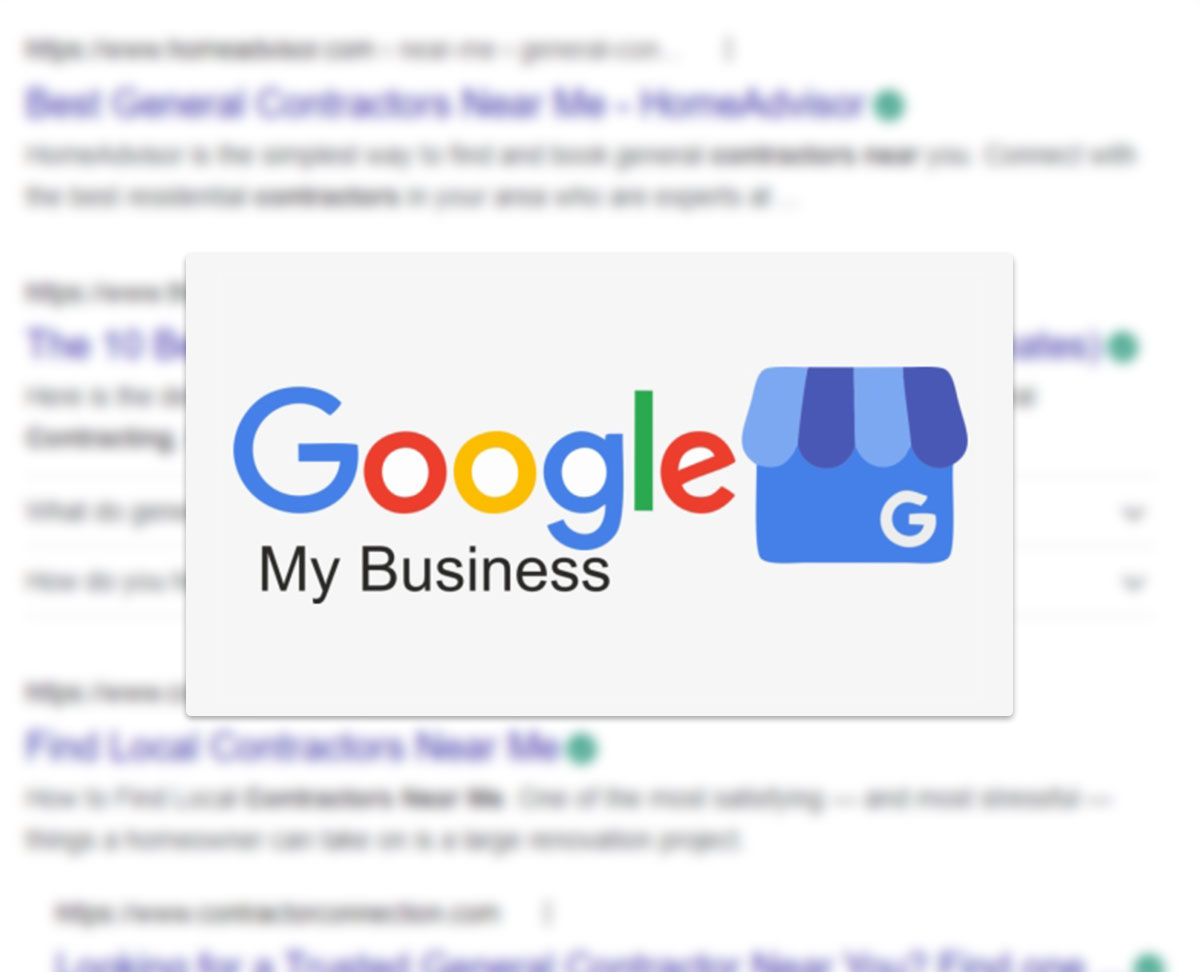 Get A Head Start To Reach The #1 Position
For now, it seems like most contractors overlook the importance of their Google Business Profile altogether. They're practically letting you win.
And just by being here, you're already a few steps ahead.
The sooner you begin optimizing your Google Business Profile, the faster you'll see results like:
Make the right adjustments that matter in Google's eyes, and you're ensured a smooth sailing to the top positions on Google.
DOMINATE THE LOCAL SEARCH RESULTS
Success Comes From Working With Pros Just Like Yourself
Homeowners need you to upgrade their homes because they want a professional they can trust. Your online contracting business shouldn't be any different.
As your trusted partner and local SEO expert, we will:

Audit your Google listing and improve it for the best results.

Keep your Google Business Profile updated by constantly managing it.

Rank your Business Profile higher by feeding Google what it wants.

Improve your online presence by building citations on other sites.
Reach More Prospects With Your Google Business Profile
Show up on Google before your competitors and start converting THEIR leads too!