Although direct mailing had fallen behind when emails became a thing, its future seems brighter than ever in our contractors' marketing efforts. 
For old school local business owners that don't want to try advertising online, direct mailing is something you MUST try if you want to see some juice flowing through your business vitals.
If you're ready to spend money on a direct mailing service, you'd better keep reading this to make sure you're calling the right shots.
Unrealistic Direct Mailing Expectations
Let's look at some numbers first to get a good grip on what direct mailing means for your marketing budget.
According to the USPS Direct Mail Cost Calculator, sending between 1,000 and 5,000 DIY postcards to every household in a specific ZIP code will cost you around $6,400.
Say you want to mail to a random list of homeowners in your area.
Most agencies send out approximately 5,000 mails and brag about getting a 2% (even 3%) response rate. That's 100 calls. In a 40 hr week, you need to have 2.5 calls an hour. Even if you have the manpower to handle the calls, you'll be swamped with doing estimates for unqualified prospects.
At a 3% response rate, you'll probably need a couple of extra people on the phones and even more to take care of all the tire kickers.
But these numbers are highly exaggerated, and very rarely a direct mailing campaign reaches a %2 response rate, let alone 3%.
What Are Some Realistic Goals For Your Direct Mailing Campaign?
Without proper research and technique, your direct mailing campaign is bound to fail.
But for the sake of the example, let's say your direct mailing campaign is on point. The message is great, your offer is unbeatable, and the households on your list are qualified for your service.
Even then, you should expect no more than 0.5% to 1% response rate.
I've heard stories of contractors that sent over 6,000 postcards and got no response in over 5 weeks.
On the other hand, I've also heard stories about a roofing contractor who works with a list of 1,000 addresses and always had a response rate of over %1 and a closing rate of almost 100%.
So how is this possible? What did the roofing contractor do right?
Here's the secret…
The Blueprint For A Successful Direct Mailing Campaign
In a nutshell, you'll want to research your prospects thoroughly.
We'll briefly talk about what makes a direct mailing campaign work, but we're not giving away all of our secrets. Here are 3 tips to get a good ROI from your direct mailing campaign.
#1. Deeply Research Your Prospects
Would you mail your new roofing offer to a home built in the past 5 years? Or is it worth sending a kitchen remodeling offer to a household that just remodeled theirs?
Obviously, the answer is no. You'd just waste money on a homeowner that doesn't need your service.
In the example above with the roofing contractor, his list had 1,000 houses built between 1910 and 1930 with slate or tile roofs. After a century, it's only natural these houses needed at least some minor work done on the property. That's how he got 1% response rate.
#2. Repetition Is Key In Direct Mailing
In marketing, we have something called The Rule of 7, which states that a prospect needs to hear an advertisement at least 7 times before they'll take action.
In other words, your prospect needs to see your offer at least 7 times before they buy from you. Of course, if your offer is insanely good and your prospect desperately needs a solution, you can close the deal much quicker.
We've heard of a window and siding contractor that sends 15,000 mails every other month and pulls between 50 – 100 leads every time he mails them. That's less than 1% response rate, but he gets good ROI, so he keeps doing it.
The roofing contractor also mails the same households on his list 6 times a year.
#3. Build An Offer That Disrupts The Industry
Say you're sending 1,000 mails to households that earn above average and need a kitchen remodel. They're most likely interested in starting a project but need a small incentive.
You want them to call you the moment they see the offer on your postcard; otherwise, you'll just end up on a list with dozens of other contractors, and that's not good.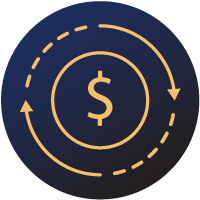 At Contracting Empire, we've created dozens of successful offers for every industry you could think of, including kitchen and bath, landscaping, ADUs, windows and siding, outdoor spaces, flooring, and waterproofing. If you're interested in an honest partnership that has your best interests at heart, hop on a call with us!
If you're not ready for a fruitful commitment, you can always risk building an offer on your own. You'll need copy that captures the attention of your prospects, a great design and layout, someone to do the research for you, and the offer itself. Get to work!
So, Is Direct Mailing For Your Construction Business Still Worth It?
It seems like direct mailing is making a comeback in 2023, and more and more of our clients seem interested in it.
The reasons are quite simple.
People are bombarded by emails and promotions that they never open. With direct mailing, marketers and business owners alike know for certain that their prospects see their offer, even if it ends up in the trash can.
72% of consumers read their mail immediately, or the same day they received it.
More than 70% of Gen-Xers (your target audience!) are excited to discover what the mail brings daily, according to a USPS study.
Clearly, direct mailing is resurrecting; if you want to take advantage of it, you'd better do it now.
Quick FAQ About Direct Mailing
Find Out If Direct Mailing Is What You need For Your Construction Business

Gabriel is our local SEO specialist that makes sure your website and content are optimized to bring in high-value local leads. He loves to dive deep and research your customer's behavior online, but also what ranks your business higher.
In his free time, Gabriel loves riding his custom-made mountain bike, hiking, and discovering new music.