In a nutshell, local SEO citations are mentions of your business on search-engine results.
From 2015 to 2020, the importance of citations as a ranking factor decreased from 17% to 7%. For now, it seems local SEO citations are steady, but are they still worth spending time on?
Yes! Citations are still a ranking factor that helps your business rank higher on Google. And when every other contractor is doing everything in their power to rank higher, even the smallest detail can make or break your ranking.
In this blog post you'll discover what local SEO citations are, and what you need to keep an eye out for. You'll also get three quick ways to get citations for your business to surpass your competitors on Google.
Let's dive in!
What Are Local SEO Citations
A citation of your business is an online reference of your company across the internet. A citation must feature your business name, address, and phone number (or NAP), but it's not limited to these. Citations can also include:
Local SEO Citations are important because they let Google know your business exists. The more your contracting business is mentioned across a search engine like Google or Bing, the more its online prominence will grow.
To find out if you have any citations, you'd simply have to type your business name into Google and look through the results.
Note: Prominence, relevance, and proximity are the three most important factors that influence how your Business Profile ranks on Google.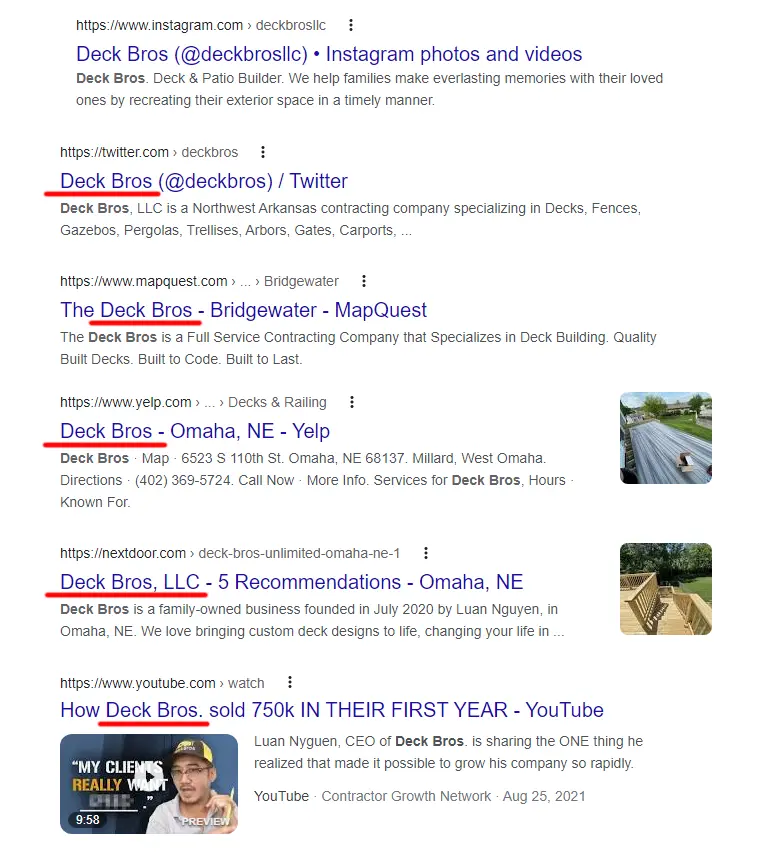 If you see your business name on other websites, it means you have citations already. But if you want your citations to be effective, you'll want more than a few.
According to BrightLocal, local businesses that rank in the first three positions on Google (the local 3-Pack) have an average of 85 citations.
But it's worth remembering that not all citations have the same value.
Types Of Local SEO Citations
Several types of citations make professional marketers argue about which is more valuable.
General Business Directories are websites like Yelp that feature your NAP along with thousands of other businesses not necessarily related to your business.
Industry, niche, or sector-specific directories are websites like Angie's List or HomeAdvisor that only feature contracting businesses.
Local newspaper or press websites, like your local remodeling magazine.
Local Themed Blogs are websites like Retro Renovation where the main topic of the blog are remodels.
Social Media websites like Twitter, Facebook, FourSquare, or Youtube.
For starters, local SEO citations on Bing Maps, Facebook, Yelp, and Google Business Profile are great for your citation building. But they're far from enough.
To reach the 85 citations that businesses in the Google 3-Pack have, you'll need the help of structured citations on business directories.
Citations on business directories like Nextdoor, Angie's List, HomeAdvisor, Yellow Pages, and others, are called structured citations.
You can submit your business name, address, and phone number to these directories, and as long as they're accurate, that's counted as a citation.
This is a structured citation for one of our clients in Omaha, NE.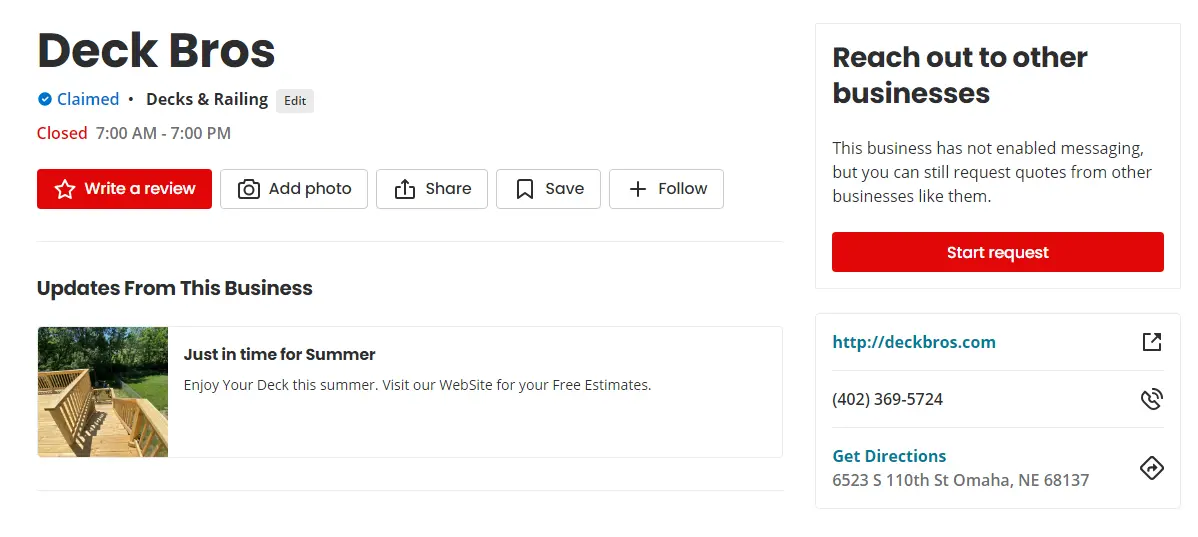 Note: Not all business directories have the same value. Citations on niche directories are far more valuable than citations on directories that no one ever heard of. We'll offer a list of the most valuable directories for contractors at the end of this article.
An unstructured citation refers to your business name, address, and phone number appearing on any other site that's not a business listing directory. Mentions of your business on blogs, remodeling magazines, local newspapers, and even forums are unstructured citations.
But these types of citations are much more difficult to get since you have no control over what bloggers or magazines publish.
Your best shot at getting an unstructured citation is to participate in local remodeling events, showrooms, submit your work to remodeling magazines, or offer your services to bloggers in your area.
Benefits Of Local SEO Citations
Even though the importance of citations suffered a loss in recent years, it's still among the top 5 ranking factors for your Google Business Profile.
If you endeavor to rank higher on Google, citations remain a must-have. They still have a lot of value and can give your business the last push that it needs to appear in the Google 3-Pack.

We can't attribute climbing up 47 positions only to the new citations that we got for one of our contractors, but they sure helped!
Whenever your potential customers look for a service in their area, among the first results will always be a directory.
Surpassing such a prominent website like Yelp takes an incredible amount of work and time, and you want faster results than that. In this case, having your business in a list like the one you see above is just as good.
Your potential customers are likely to click on directories like Yelp or Angie's List to find a contractor. As long as you have a listing on these websites, there's a big chance that you'll get referral traffic and more people accessing your website.
Citations are a smaller piece of a bigger puzzle called SEO. Search engine optimization takes time, but the results are long lasting and make the waiting worthwhile.
Even if they don't affect your ranking or bring referral traffic, having your business listed across the internet can't do you any harm.
The more Google and your potential customers see your business name, the better the chances are that they'll remember it. That's how brands are built, and your contracting business shouldn't be any different.
It's undeniable that citations can help your business grow, but for all these to happen, your citations need to be set up properly.
What Can Go Wrong With Local SEO Citations?
At first glance, citations might seem super straightforward and 100% guaranteed efficient.
However, there are several aspects to keep in mind if you want your citations to work to your advantage.
The first and foremost problem with all types of citations is inconsistency. And the worst type of inconsistency is in your business name, address, and phone number..
If you want Google to pay more attention to your business and take it seriously, your NAP needs to be accurate on every website and directory it appears on.
This is of crucial importance because it shows both your potential customers AND Google that you're on top of your game.
If, on the other hand, Google sees differences in your NAP format, it may consider there are actually two different businesses.
But we're not talking about even the smallest difference. Google is smart enough to understand acronyms and abbreviations. The table below shows Google's understanding of the different formats you use in your NAP.
| Original | Substitute |
| --- | --- |
| Limited | Ltd. |
| Limited Liability Company | LLC |
| Company | Co |
| 555–555-5555 | (555) 555-5555 / 555 555 5555 |
| North, South, East, West | N, S, E, W |
| Street | St |
| Drive | Dr |
| Road | Rd |
Note: Street address abbreviations are the same substitutes that the United Postal Service uses. You can find all of them here.
A duplicate listing is an additional listing on a directory website that displays the same information as your main entry.
It might be tempting to create two listings hoping to double your online visibility, but this will often work against you. Duplicates are harmful because they create confusion among users, but also for Google.
For a duplicate listing on Google Business Profile, you risk getting both your business profiles removed.
There are a few ways you can remove a duplicate if it was created by mistake.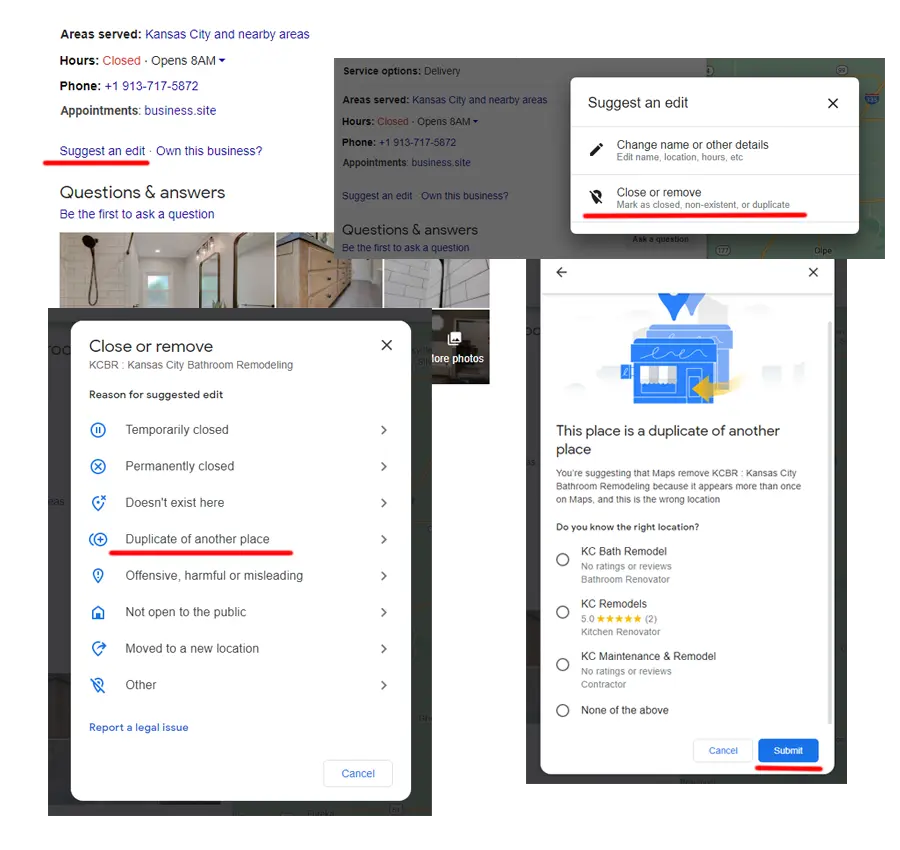 Note: The Suggest an edit button allows you to make suggestions to any business. However, not all of them go live unless Google decides the suggestion is accurate, or if the owner of the profile agrees with your suggestion.
Inaccurate information can also create distrust in Google and your potential customers. Working hours, for example, need to be updated regularly to ensure you're getting visits or calls only when you're at the office.
If a potential customer sees you're open at a particular time, takes the time to visit the office, and finds out you're closed, that's most likely going to be a lost client.
According to BrightLocal, a wrong phone number causes 66% of customers to lose their trust in a business, followed by a wrong address, different business name, and inaccurate working hours.
3 Quick Ways To Get Citations
If you're still hooked and you want your prospects to see more and more of your business, let's see three quick ways to get citations.
Get Local SEO Citations With Data Aggregators
Think of an aggregator as a website that gathers information about businesses and spreads it across the web to other sources, like in our case, business directories.
Anyone can sign up, register their business, and then let the aggregator take care of your citations.
There are three big data aggregator services in the USA.
Aggregators save you a lot of time if you want to get citations from multiple business directories. But if you don't want to blindly share your business information with everyone, there's another, more time-consuming method of getting citations.
Manually Submit Citations To Business Directories
If you want to be in control of your citations, you can submit citations to business directories on your own.
However, this method requires a lot of free time.
You'll need to find the right citation sites, sign up for them, register or claim your business, update all the business information, and keep it updated throughout each website.
We did the research for you and we cherry-picked the sites that bring the most valuable citations.
Leave your email address here so we can send you the list with the best business directories for contractors.
Letting Pros Get Your Well-Deserved Citations
There's no doubt that you can manually submit citations to some sites every day. But that's a lot of hassle and it'll take months to get the average 85 citations that businesses in the Google 3-Pack have.
You need to see results sooner than that.
Here at Contracting Empire we use citation management tools that get you valuable citations ahead of everyone else in the industry.
Local SEO citations are included in our SEO service where we take care of your online presence from top to bottom. So you're not just getting citations, but the full-option when it comes to ranking locally.
Let more people see your business online with fast and effective citations.