In a time where 97% of users discover local companies online, you should start thinking about how your online presence is holding up.
An optimized Google Business Profile (formerly known as Google My Business) gives you the perfect opportunity to stand out from your competition and get more valuable leads locally.
It's what your competitors are doing to get more calls and scale their contracting business.
Setting up your Google Business Profile and optimizing it for Google is not rocket science. However, it is time consuming to reach the point where it can exponentially grow your business.
Keep reading and discover how you can speed up the process and create a money-making Business Profile on Google.
A Clear Path To Optimizing Your Google Business Profile
Every feature of Google Business Profile impacts your online presence.
The best way to optimize it is to start from the beginning and reach the point where every field of your Business Profile is completed.
To begin, download the Google Business Profile app for your smartphone first, and then we'll move on to creating your business profile (if you don't have any).
Setting up the Essentials
Type your business name to find if you already have a Business Profile created by Google. If not, click on Add your business to Google, which will prompt you to the next step.
Google Business Profile Name
The business name must be your official business name. As Google states, "Your name should reflect your business's real-world name, as used consistently on your storefront, website, stationery, and as known by customers.". To be more personable, you can ditch the LLC from the name.
Including unnecessary information in your business name could result in penalties or even the suspension of your Business Profile.
If your legal business name is, let's say, "Mark's Bathrooms", don't use "Mark's Bathrooms | Bathroom Remodels | Kansas".
Here's a shortlist of what's not permitted regarding business names on Google.
Google Business Profile Category
The main business category tells potential customers what type of service you specialize in. This is of utmost importance when setting up your Business Profile because it will greatly impact local SEO and the relevance of your business in your area for that service.
You can only have one main category but multiple secondary categories. The main category should be your main service – the one you want your business to be known for. 
If in doubt, check your revenue metrics for last year and see which service brought in the most revenue. You can list your other services in the secondary categories.
Let's say you have a remodeling company and you specialize in bathrooms. In that case, your main category should be bathroom remodeler. If you also do kitchen and basement remodeling, your secondary categories can be kitchen remodeler and basement remodeler.
Here's why this is important:
A user searching for 'bathroom remodeler in Kansas' will see companies that have 'bathroom remodeler' listed as their primary service in the Google 3-pack first. Categories like 'general contractor' or 'remodel company' will come second.
Location & Expanding Your Location Area
The next step is to insert your address or select your location area.
A contracting business is a hybrid service-area business. You can display your headquarters address and designate a service area.
First, you'll want to add the locations you serve, so click No and Next.
It will prompt you to a similar page to this one…
In the Search and select areas field, add the locations you service. Google advises that the "service area shouldn't extend farther than 2 hours of driving" from your physical location. From our experience, it's best practice to keep your service area within 20 miles from the zip area you're located at.
Click on Next, and fill in your contact information on the next screen that pops up.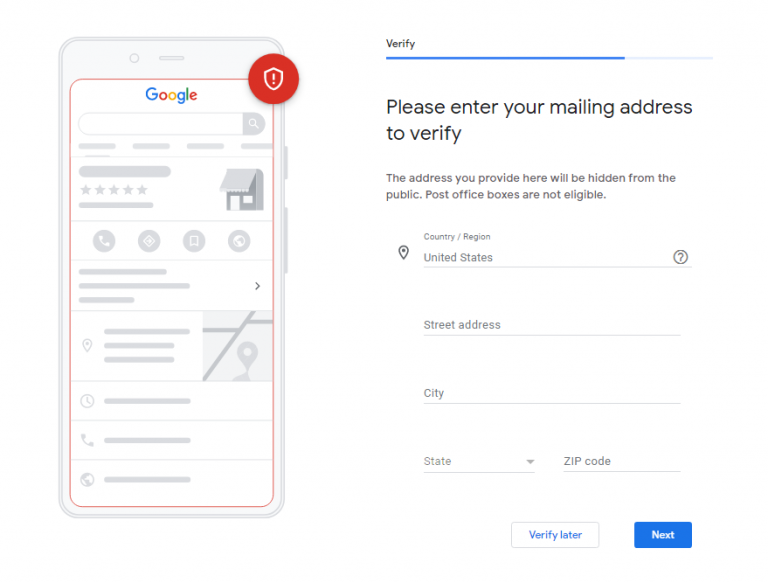 Get Your Google Business Profile Verified
Google wants to ensure that only the real owner or an authorized user can edit a Business Profile, so it'll ask you to "verify your business".
To verify, add your business address and Google will send a postcard with a PIN code. You'll need to type that PIN into your Business Profile so you can have full access.
Most mails arrive within 14 days, and during that time, Google advises owners not to:
Remember that verification codes expire after 30 days from the request date. If it takes around 14 days to arrive, you're left with another 16 days to use it. Each verification code is unique to your business and its location.
You can also choose to verify later, but there's no reason you shouldn't do it right now. The sooner, the better.
Tips!
Google Business Profile Services
The next step is selecting the services that belong to the main category. In the image below, you can see that 'Remodeling' is already checked because our main category is 'bathroom remodeler.'
Choose relevant services that you offer when remodeling a bathroom. If you install flooring, tile work, fan, vanities – select them. They'll be added as services to your main category.
Click Show more to find more services. If you offer services that are not in that list, click on Add custom service to add your own.
Once you press Next, you'll be prompted to add your working hours.
Google Business Profile Description
The next thing you'll have to complete is your business description. In Google's words, "enter unique and valuable information that describes your business". The business description has minimal impact on how you show up in the Google 3-pack.
Use this opportunity to provide useful information on the services and products you offer. You can include your brand's mission, vision, and history. However, the description must be kept short and informative.
Here are some tips on what to avoid when writing your business description:
To write a powerful description that attracts users, focus on the benefit they're going to get once they choose your business. You can mention the area that you serve as well as the name of your business.
Click Next, and Google will prompt you to the final steps to fully optimize your Business Profile.
If you want the best guide to writing an efficient business profile description, along with a template you could use, check out this article!
Complete Your Business Profile For Maximum Efficiency
At this point, your Business Profile would be at around 50% setup. That's not enough for Google to consider your business trustworthy, so let's continue with adding additional information that creates trust among visitors and improves your local SEO.
1. Upload Your Best Photos & Videos
I can't overstate the importance of photos in the age of social media. Photos offer users a quick and accessible way to discover your craftsmanship.
BrightLocal analyzed 45,000 businesses to learn how photos impact your customers' behavior. Here's what the study discovered.
Businesses with more than 100 images get on average:
This proves that having photos on your GBP increases trust, ranks you higher in the 3-pack, and gets you some serious wins.
2. Create Meaningful Posts
Google Business Profile Posts resemble a Facebook or an Instagram post, but on your Business Profile. It's a quick way to connect with existing or potential customers.
Posts are social updates that contain an image or video, text, and a Call-To-Action. As a contractor, you can use posts to showcase the project you are working on, a before and after comparison, a highlight of your team at work, or anything that is meaningful to your users.
There are three types of posts available for your contracting business:
The 'offers' posts are about promotions and offers that you're currently running. These are great to get people that are on the fence to jump in.
These are the most commonly used posts. They let customers know what you're working on these days, what trends are growing, and where they can find you.
Here are a few things that you can do to write a meaningful post.
Add in the location, service, and keywords in some posts to test the impact they have on your local SEO.
Attention spans are short, so write the most important part of your post at the beginning.
Ensure the image doesn't get cropped, especially if you have text on it.
Use a conversational tone as you'd be speaking naturally to your clients.
Always add a button. "Learn more," "Call now," or "Sign up" are just a few of your options.
Although you can write up to 300 words, a lot of your copy won't be seen until users click on the post. Make sure that the first 80-100 words get the users to click on the post to read more. Focus on clarity, simplicity, and what they'll get by working with you.
The goal of each post is to make potential customers take action. So invite them to click, call, learn more, or guide them to your website.
The 'events' posts are great to invite users to a location to celebrate an event. These posts can include a photo, the event name, a timeline, and a button.
For example, suppose you're a cabinet maker and want potential customers to see your product. In that case, you'd create an event at your showroom to display samples of your work.
3. Setting Up And Answering Q&A's
You'll make a great impression when you answer your customers' questions before they even ask them. The Questions & Answers feature is ideal for tackling the most common questions you get.
Anyone can ask and answer questions about your business. These can be about your service, your prices, how you operate, your customer service, etc. Other users can also answer questions posted, so it's best that you answer them.
You can also set up your own Q&A. On your Google Business Profile, look for the "Ask a question" button and click it.
Once there, type in the question, post it, and answer it.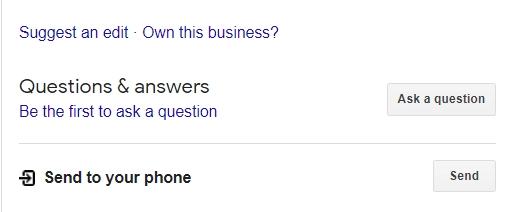 4. Responding to Messages
Among the options to call, get directions, or get a quote, user can also message you via the Messages feature of your Google Business Profile. This is a great way to communicate with potential customers and build the foundation of your relationship with them.
First of all, you'll have to turn on messaging. Go to your Business Profile Manager, and on the features bar from the left, select Messages. Click Messaging settings, and then Turn on messaging.
You can also turn on the second option. However, that can sometimes work against you. You don't want your customers to know that you read their message but ghosted them.
Once you do this, customers visiting your profile can message you at any time. You can customize an automated message that customers will see first.
Take Marketing Off Your Plate
Your Business Profile is the best shot you've got at promoting your business on Google for free!
It's a long-term deal that ensures the growth of your business for years to come.
But showing up on Google and getting more calls takes time. And if your time is limited, outsourcing professionals to take care of your marketing is the best idea you can have.
Focus on what you want to be doing. Invest $250/mo to let experts boost your online presence and make local homeowners see more of your business.
Get the leads you've been missing to your competition.