The key to any good business is having a solid online marketing plan to generate leads and income. One of the best strategies to reach that goal is through landing pages.
But what are they exactly, and how can they help your contracting business? Below we'll cover everything you need to know about landing pages for contractors and why they're the perfect tool for you to use.
For contractors, a landing page is a standalone web page that features a specific service. It's a tool with one purpose: to attract leads and convert them into customers.
Let's say you have a user looking to renovate their bathroom, and they see an ad that matches their interest. After clicking on the ad, they arrive directly on your landing page. This is where the conversion process begins.
For many contractors, this is the first encounter a homeowner has with the company. It's a gateway that takes them closer to choosing your services.
The key difference between a landing page and a website is focus and flow.
Your website is the mirror of your business in the online world. It's like a short story that showcases who you are and what you are offering to potential clients. For contractors, your website is where homeowners come to learn more about your company and past work.
A good landing page should be focused on one service alone and built in a way that encourages readers to take action. A website is designed for exploration, while a landing page carefully guides the user toward its final goal: conversion.
Traditional websites are crucial to any business that wants to thrive. However, they're not enough. Competition is high and every advantage counts. That's why landing pages are an essential part of your online marketing efforts.
Why Is a Landing Page Important?
Before we break down the anatomy of a landing page, it's useful to understand the user's point of view and how a landing page fits into this picture.
Suppose somebody is searching for a specific service like "hardwood flooring". Their search query tells us a few things:
They are in what we call the service-aware phase. They know what they need, and now they're looking for a company that fits their needs.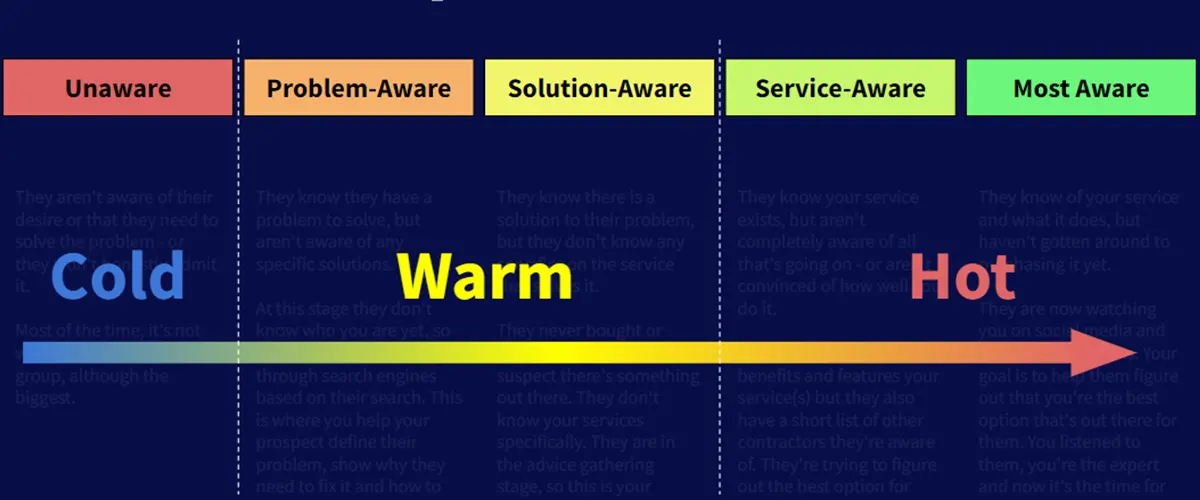 The purpose of your landing page isn't to endlessly discuss your services, but to convince the user that they're in the right place. They need to know that you are the professional they've been looking for.
You do that by focusing on relevance. A study by Microsoft showed how people's attention span dropped below 8 seconds. It shouldn't take visitors longer than a few seconds to have a clear idea of what you do and how they can benefit from it.
This is why having a landing page is just as important as having a website. You can think of the website as your home in the online world. Well, landing pages are the door through which customers get in.
How Does a High-Converting Landing Page Work?
An efficient contractor landing page is short and to the point. It's tailored with a powerful focus on one service. While a website is more complex, a landing page will take advantage of the user's short attention span and guide them directly to your goal → A Call-To-Action.
After discovering your landing page, the user has to know these 3 things immediately:
No confusion or distractions.
Let's say you're a remodeling contractor that wants to advertise kitchen remodeling to potential clients. Instead of creating a page for home remodeling in general, we can tailor the content and design to fit that unique service.
This way, your target audience knows who you are and what you're offering right from the get-go.
If you want your landing page to perform, it should have a clear structure. Here's our proven formula with an easy to remember acronym ( M.E.E.T.U.P. ) that will ensure your landing page will always perform:
Let's break this down a bit:
1. Mind - The Major Dropoff
The most important part of any landing page is what we call above-the-fold content. It's what the users first see when they open your landing page and where they find out if your page matches their search intent or not. Here is where the landing page connects the story inside the user's mind from the ad to the page.
When creating this section, you need to get inside the user's mind. You have to know what drove them to click on your landing page and create content with that information in the back of your head. In other words, your "above the fold" content needs to answer the first questions that pop up into a reader's head:
This is where your knowledge of your target audience comes into play. You need to transform the needs and wants of potential clients into a solution. This solution takes the form of a few words that significantly affect their decision to stay on or leave your page.
Our landing pages for contractors consist of an impactful headline, followed by an explanatory subheading and a header image that complements them. This trifecta, when done right, is powerful enough to encourage the reader to scroll down.
A headline that grabs attention is the most important part of any landing page. It also has to showcase the major benefits a user will experience if they choose your service. In the end, it makes the difference between further engagement or a bounce. Here are the basics of any convincing title:
Next to the headline is a subheading that complements it. Its purpose is to engage the user deeper while explaining the service provided.
And lastly, a high-quality featured image that represents the brand is also crucial to any landing page. It sets the tone for the entire user experience. It needs to aid the vision you created and represent the service you advertised.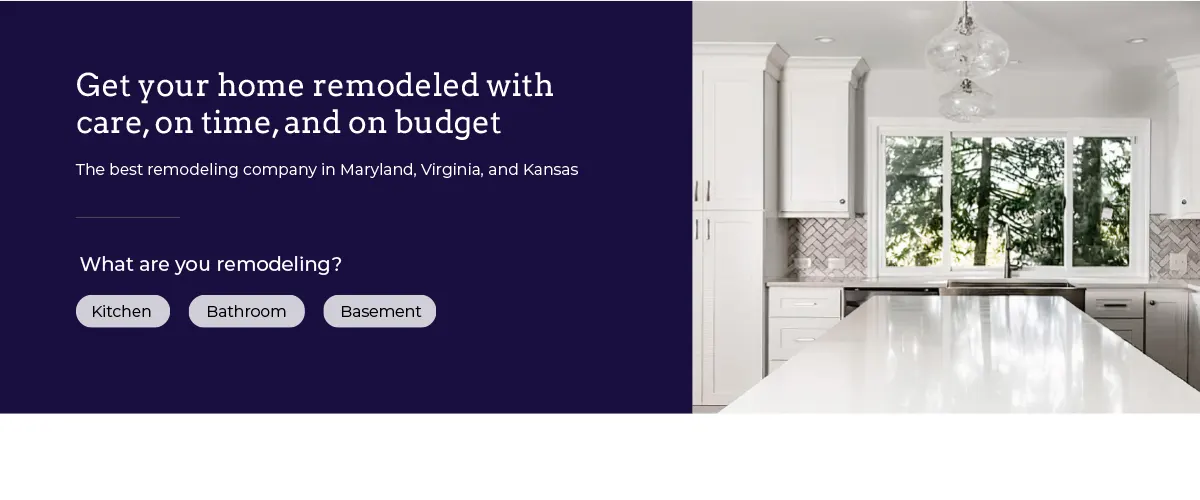 2. Expectation - A Clear Guarantee For Your Customer
After you've explained the greatest benefit of choosing your services, you need to meet their expectations by assuring them you're capable of handling their project.
Logos and certifications are a great way to build credibility. You can showcase associations you are part of or name-drop a few important clients from your portfolio.
If any of the above don't apply to you, don't worry. You can offer guarantees in simpler forms. If you have a long-term warranty for your services, showcase it. Talk about the number of remodeling projects you've accomplished, or insert a few testimonials from past clients.
The user's doubt fades away when you show them that other people enjoyed your service. And when they see your certifications and accomplishments, they are ready to find out more about what you have to offer.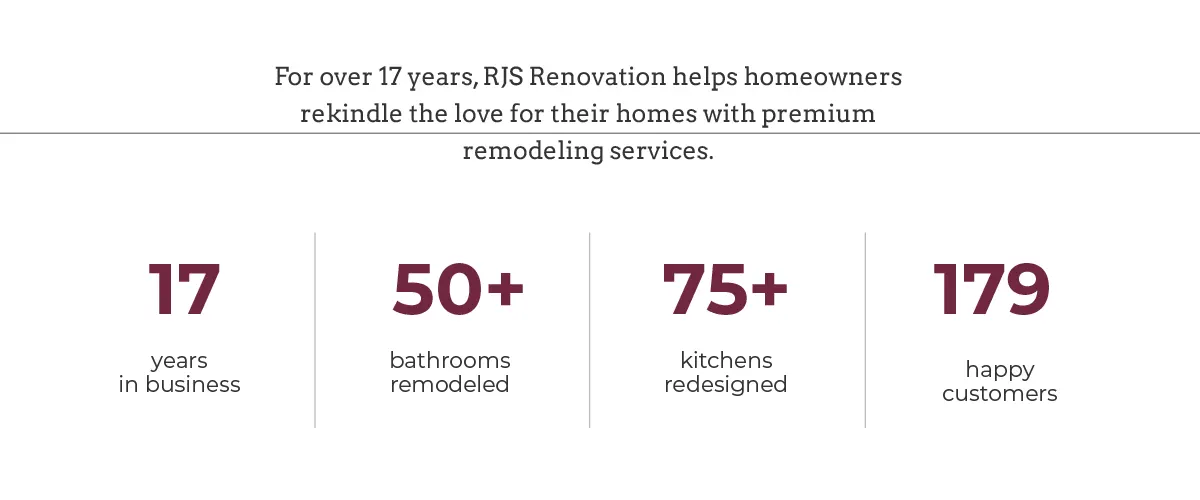 3. Engagement - Explaining How Your Service Will Improve Their Life
This is where your user comes in contact with the value proposition you initially offered. It begins from the ad and takes a clear form in the copy on the page. It's where you explain why your service will have the best impact on your prospect's life.
If you're doing kitchen remodeling, introduce a section where you talk about how great it feels to live in a home that has an inviting kitchen where the family can gather daily. In other words, emphasize how the service you're offering is indispensable to them by painting a beautiful picture and increasing their desire.
Remember: you need to be very specific with what you're saying. Your user needs to scroll down because they're becoming more interested in what you offer – not because they don't understand it.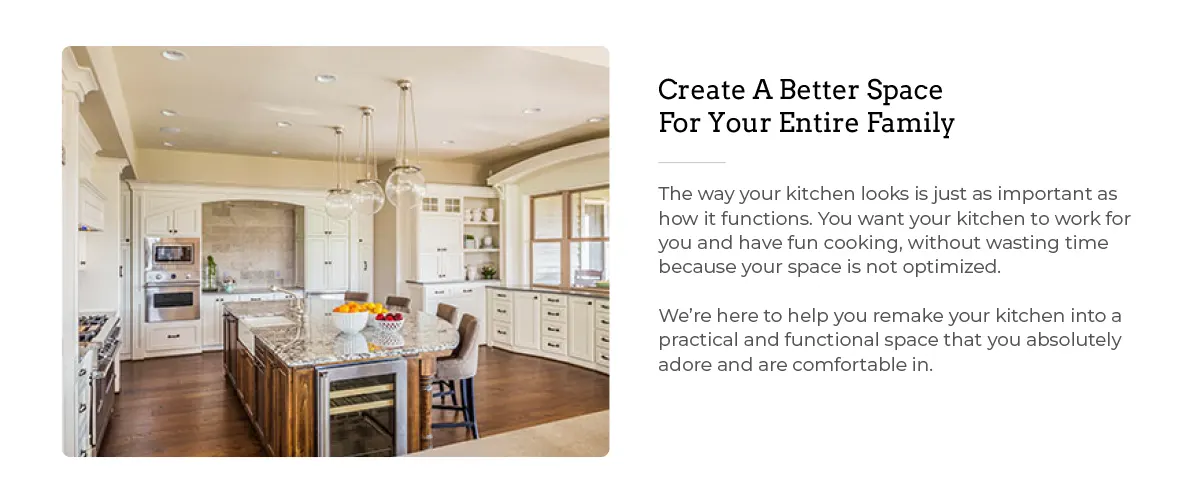 4. Transform - Turn Expertise Into Value
This section is about showing your prospect the value they're receiving if they choose you. Put all your cards on the table and let your page reflect the expertise that makes your company special.
Talk about your process, how you approach clients, and how each project unfolds. You can even have a small portfolio section where you showcase your best work. Visual elements are just as important as the writing on your page, so make use of them.
Our landing pages also feature a small Q&A section where we answer the most common questions homeowners have. This way, you educate them while positioning yourself as a trusted advisor to their would-be project.
No matter which approach you take, it's very important to make your prospect understand that there's intrinsic value in doing business with you.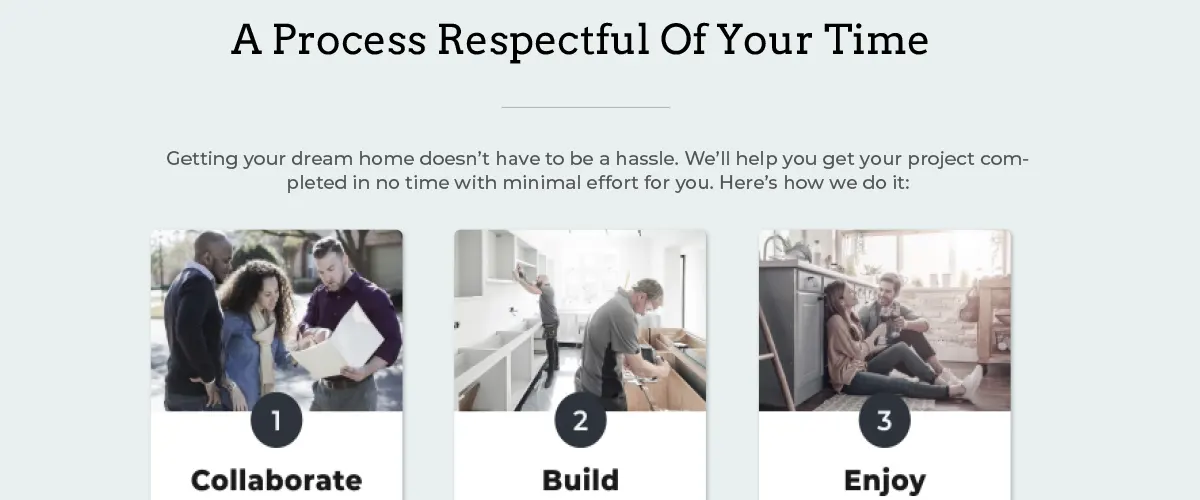 5. Urge - Connect To Your User And Increase Desire
Next, you need to increase your prospect's desire and reinforce that what you are offering is the right choice for them. There are several ways in which you can do this:
You can do it through a video because it creates an instant connection and builds trust fast. You can also include testimonials from clients. People are interested in hearing what other homeowners like themselves have to say. It's a simple and effective way to emphasize your company's qualities in a genuine way.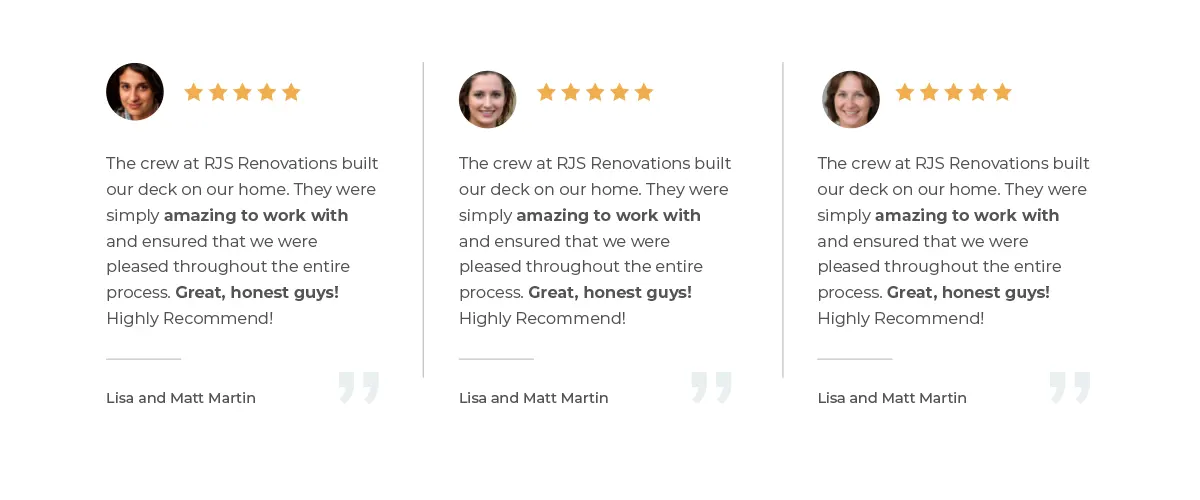 6. Proceed - Lock Your Prospect Down
The last step of your landing page is as crucial as the first. The landing page's sole purpose is to lead the client to the CTA or Call-To-Action. It's a simple phrase that encourages your prospect to submit their details and get in touch with you.
A CTA has to be clear and persuasive. If you think about something basic like "Contact Us", you need to rethink that strategy.
If you're an electrician, a better example of a CTA would be "Make Your Home Feel Safe Again". By using the term "again", you are subtly appealing to the prospect's emotion. You're implying that their home used to be safe, but it's not anymore. You are increasing a sense of urgency that prompts the user to take action.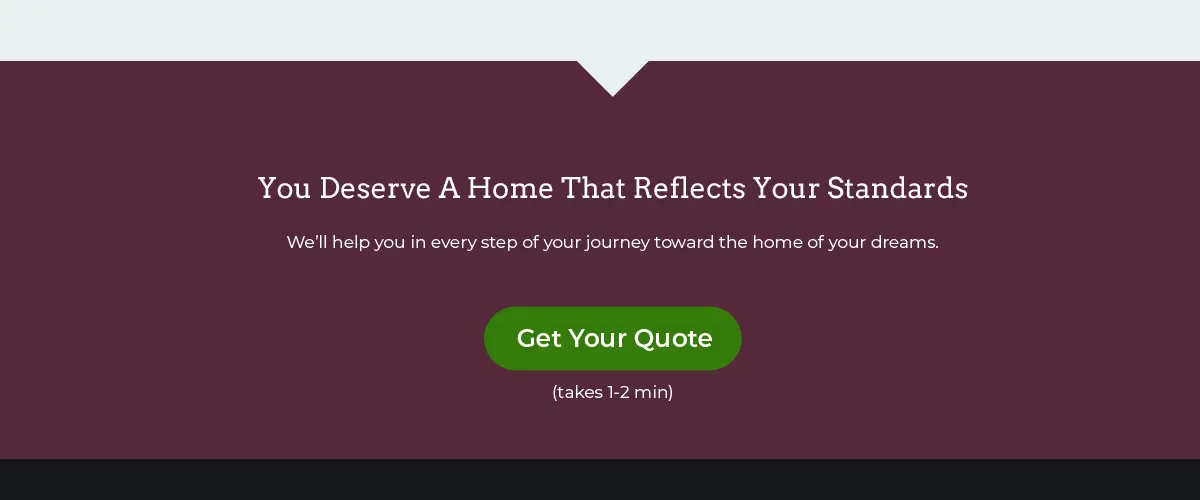 The Cost of A Landing Page
Prices for a contracting website can vary wildly from $100 to $50k depending on the agency, the purpose, and the scale of the website. The time it takes for a website to go live is what makes landing pages shine. If a website takes several weeks to build, a landing page can be created much faster as it's basically just one page.
That's great news because a shorter timeframe and fewer resources needed imply a smaller investment.
Here at Contracting Empire we love getting clients results fast. We build specialized contractor website systems for $9,800 and they take about 4 weeks to complete. We also create specialized landing pages for $2,500 that take 1 week to complete.
Here's the kicker.
We've made our website system behave like landing pages. Everything happens for a reason and every piece of content is where it should be. When you flip a switch, the service page on your website becomes a fully-fledged landing page ready to run ads to.
As an added benefit to our clients, you can start out with a specialized M.E.E.T.U.P. landing page. Then, if you want to upgrade to our contractor website system, you can use that initial investment from the landing page to work towards your website payment.
We've built over 150 contractor website systems in 2021. If you'd like to have a conversation about how we can help your contracting business grow with the help of our specialized landing pages, click the button below.

By day, Ana is a passionate writer with a knack for understanding what makes your audience tick. She loves delivering compelling copy that showcases your brand's value and helps your business succeed.
During off hours, she enjoys hosting get-togethers for her friends, diving deep into the art of cocktail-making, and traveling as far as her feet can take her.